Troy Williams entering NBA draft, will not hire an agent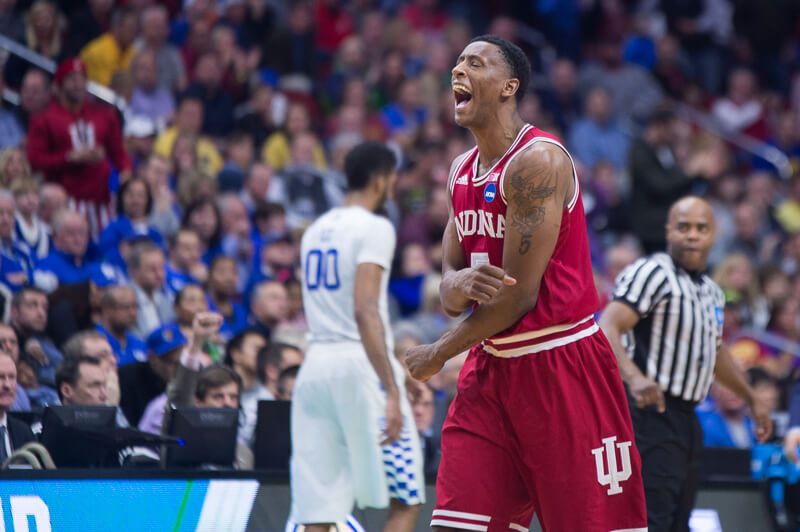 Indiana junior forward Troy Williams will declare for the 2016 NBA draft, but will not hire an agent, it was announced on Monday afternoon.
The news was first reported by Adrian Wojnarowski of Yahoo! Sports.
"After much thought and family discussion, I've decided to declare for this year's NBA Draft but will not hire an agent," Williams said in a statement. "This gives me the opportunity to explore future possibilities, while keeping my options open. Coach (Tom) Crean is always supportive and makes sure that you have the best information to help you make a decision like this and I value his input. I'm excited to go through this process."
Williams, who averaged 13.3 points and 5.8 rebounds for the Hoosiers last season, is ranked the No. 83 draft prospect by DraftExpress.com and the No. 86 prospect by Chad Ford of ESPN.com.
By not hiring an agent, Williams will have the option to participate in next month's combine in Chicago (May 11-15) and also work out for teams but still return to school next season.
The 6-foot-7 forward was a third team All-Big Ten selection for the 2015-2016 season as Indiana won the conference outright by two games and advanced to the Sweet Sixteen.
An NBA scout told Inside the Hall recently that Williams could go anywhere from the late first round to the second round if he entered the draft.
Underclassmen will have 10 days after the draft combine ends to gather feedback and make a final decision to either stay in the draft or return to school.
Williams is expected to graduate next month from Indiana with a bachelor's degree in recreational sports management.
Indiana freshman Thomas Bryant has already announced that he would be returning to Bloomington for his sophomore season.
Filed to: Troy Williams