An NBA scout's take: Breakdowns on Ferrell, Bryant and Williams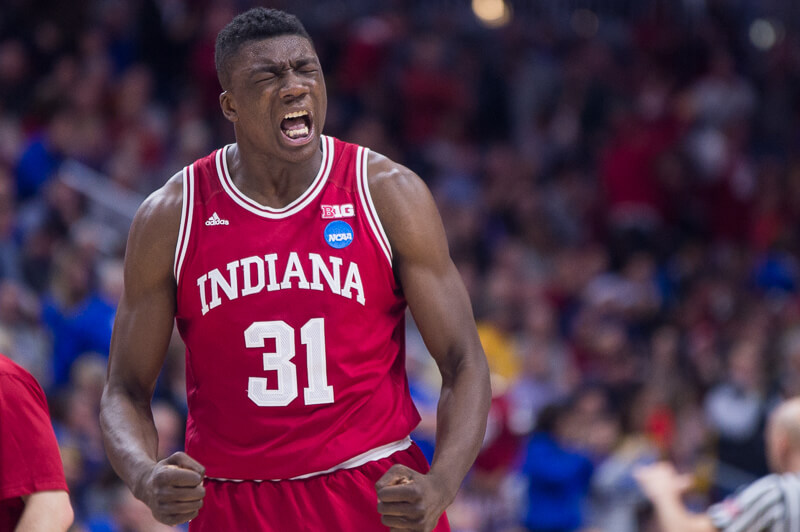 Earlier in the week, Inside the Hall had a chance to speak in-depth with an NBA scout regarding the three Hoosiers who could be involved in the 2016 draft: Yogi Ferrell, Thomas Bryant and Troy Williams.
Here's a breakdown of each player from a scout's perspective, who spoke with Inside the Hall on the condition of anonymity.
Thomas Bryant
General thoughts from an NBA scout
"Everybody really just loves his energy and competitiveness. He runs the floor a little bit better than you'd assume just because of the stiffness in his body, which is your main concern. I think that's the one thing that there is some concern about out there and how much can you improve that as he grows and works with strength training and conditioning.
Obviously he can shoot it from outside. He isn't the bounciest player, but he's pretty crafty around the rim. His main asset is that he just plays really hard and that he's got a jump shot. I think the concern is: Can he move laterally? Can he play pick and roll defense? And he's not really a shot blocker in the NBA, so what are you going to do with him on the other end?"
 Can he improve his stock with another year in college?
"I think he improves his stock by improving his mobility. That'll be first and foremost. Getting more touches or averaging more points, I'm not sure if that answers any questions unless he develops something else to add to his skill set."
Yogi Ferrell
General thoughts from an NBA scout
"I don't think there was really a whole lot he could have done to improve his stock this season, per se, but I think it was great to see a kid finish out his college career on such a high note.
I think most people see him as a guy who has a chance to get drafted maybe somewhere late in the second round. And if he's undrafted, he's going to get a call really quick as far as getting an opportunity to play in summer league. I think he's somebody that you're going to see in a training camp. There will be teams who will be interested in him for a D-League squad to see if he can develop and become a NBA player.
I don't foresee his route being an easy one, but I think he's competitive and works hard enough that he's a guy that can do it. If you look at the improvement of his shooting, I think it's a testament to his ability to work."
On the size issue and how it will affect how teams view him
"He's going to need to be able to create space and knock down shots. Those are the two most important things. Being able to make those reactions quickly as far as getting a pass off or getting a shot off before he gets swarmed by NBA size. That's how shorter guys are able to make it and that's what they excel at. Creating space and using their bodies."
Troy Williams
General thoughts from an NBA scout
"Troy is a really polarizing player right now. I think if you talk to 10 scouts or 10 front office guys, I think you'll get a 5-5 split or a 6-4 split on him.
I think there are some that, you'll talk to them and think he really hasn't improved much and some people that think he made huge strides this season.
If you take him away from the things that he doesn't do well and put him in the position to do the things that he does do well, he probably has an opportunity to look a little better than he did at times at Indiana. He's really going to need to improve his jump shot and decision making to be a wing player, transition or three-and-d type role player."
On whether he could benefit from coming back to school
"With Yogi gone, that just means he's going to be handling the ball more. And I think the more he handles the ball, the worse he looks. If I'm him, Yogi's gone, so I have to go."
On where each guy could potentially land in the draft
"Troy could go literally anywhere from the end of the first round to the end of the second round. It wouldn't shock me, if you look at past drafts where guys are willing to take stabs at athletes, it wouldn't shock me to see someone take a stab at him as early as the late first. I think he gets taken before the middle of the second.
Yogi, I think is undrafted.
Thomas, I could see him going anywhere from 20 to the 45 range. That's pretty broad. Probably more towards the early 30s. A lot of teams seem to really like him."
Filed to: Thomas Bryant, Troy Williams, Yogi Ferrell