That's A Wrap: Tom Crean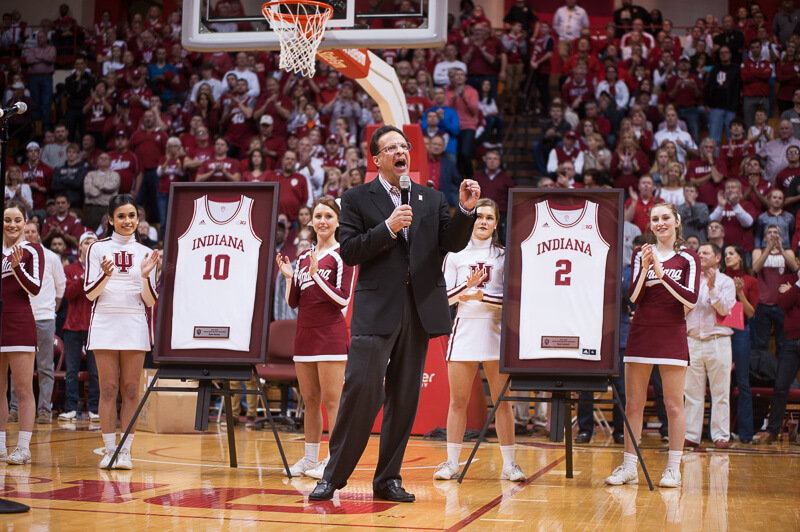 Welcome to "That's A Wrap," our recap of the 2015-2016 Indiana Hoosiers. Today: coach Tom Crean.
As the 2015-2016 season began, Tom Crean spoke out about his complicated reality as head coach of the Indiana Hoosiers.
Despite some success, not every Indiana fan was on board. Negativity existed. Some wondered if he was the man for the job.
"It's not easy being Tom Crean," read a headline on CBS in an article that detailed how both his son and daughter had been directly affected by such negativity.
"Tom Crean hears all the noise about his job security," read another on ESPN in an article which described this year as "a season on the precipice for Crean."
But with Crean addressing this reality head on in public instead of letting it fester internally, a word emerged at the beginning of the season: peace.
"I hear about all the negativity, and I know it's there, but I don't see much of it anymore," Crean told Gary Parrish of CBS in the aforementioned article. "I know it's there. You'd be naive to think it's not. But I don't see it. So I'm more at peace and more focused on what really matters and what's controllable."
And an old friend chimed in with the word as well.
"Personally, I think — if you want to get deep on it — Tom had to learn how to handle the media and everything down there," Tom Izzo said at Big Ten media day. "It's a different animal at certain schools. It really is. It's different at Kentucky than it is at Michigan State. You can't just do it one way. I think that hurt him."

"I see him more at peace with himself now than I've seen him in five years. I think he'll have a better team, and I think he'll enjoy it more. He can embrace the thing and say, he's a damn good coach, he cares about his players and he's just run into a couple of problems in a place where they're not used to it."
Indiana's season started out well enough. Especially with its 20-point victory over Creighton on Nov. 19. Thomas Bryant was terror on both ends of the floor in that one — the late in the game commitment of Bryant a great get by Crean — and Indiana looked like a team to be reckoned with.
But Maui brought change. Indiana fell apart against Wake Forest in its opening round matchup and lost. Crean put Indiana through a longer-than-anticipated film session and walkthrough that evening, and his team came out fatigued and flat against St. John's the following morning — despite a victory. The next day the Hoosiers fell to UNLV, a school that fired its coach a month and a half later after a stretch of losing five of six and starting out 0-3 in conference play.
Then came Duke. The Hoosiers looked like they'd put up a fight to start, but the Blue Devils torched them for 1.53 point per possession — the most they'd ever scored against a major conference opponent. It was an embarrassing performance with Indiana doing its ridiculous changing of defensives mid-possession to no avail.
Despite a fantastic offense with a ton of weapons, Indiana's defense was a hot mess and it looked like it would ruin an otherwise promising season. And there was little denying Crean's seat had never been hotter after the loss. There seemed no way he could survive this if it kept going, right?
"I think we'll get a lot better," Crean said after the loss. " …  It's December 3rd and we've played eight games. I love their work ethic in practice."
The win over Notre Dame two weeks later helped ease some of the Maui and Duke pain, but Indiana had to mount a furious comeback in that one — not necessarily a recipe for future success. And in its last game before conference play against Kennesaw State, Indiana surrendered 1.08 points per possession to a team that finished 215th in offensive efficiency.
The start of conference play was a little shaky. On Dec. 30, Indiana turned the ball over on 31 percent of its possessions at Rutgers and had to gut out a win in an ugly contest. But there was hope on defense. Yes, Indiana continued to allow too many easy drives to the rim off the perimeter, but it held Rutgers under a point per possession (.96).
And getting a road win to start the season in conference play — no matter the opponent — gave the team confidence especially without James Blackmon Jr. in the lineup. From here, Indiana figured out its defense and started its tremendous march to a conference championship and Sweet 16 appearance with only a few true slipups along the way (at Michigan State, at Penn State, against Michigan in the Big Ten Tournament).
It was an absolutely incredible turnaround that started at the top. Despite the rough start, Crean never lost the team. As a result, they continued to play hard and the results of all their work in practice started showing up on the floor. Bryant got healthier, allowing him to be more mobile as he better learned pick and roll coverage during practice time. Crean nixed the changing of defenses for the most part as Indiana went straight man and did better containing the perimeter. The team figured out how to play together as a unit instead of as individual defenders and it all culminated in the Hoosiers becoming the third best defense in conference.
Crean said after Duke his team would get a lot better. They did just that.
Indiana's coach was also strong in game. He drew up smart inbounds plays and made the right adjustments. Indiana executed the coaching staff's game plans well. In Ann Arbor after a botched Yogi Ferrell defensive assignment that saw the Hoosiers go down 15-4 early, he called a timeout and laid into Ferrell. The team responded in a big way, finishing the half on 41-9 run.
Crean's calm and confidence was also a boost to his team. More than one player noted during the year that Crean's utmost belief in them during timeouts when games hit crucial points gave them the confidence to go back out there and finish the job.
Crean also succeeded in getting the most out of Ferrell in his senior season. It took a while for it to fully click, but Ferrell seemed to finally follow his coach's lead to the maximum. An unrelenting commitment to defense. Extra time watching film. And learning not just how to lead as a floor general, but lead in the way a senior with experience should — being an example for excellence on and off the court.
It also can't be understated how instrumental the additions of high-character graduates transfers Nick Zeisloft and Max Bielfeldt were to the team. As their recent POTB appearances revealed, they were instrumental in keeping the team together and leading at turning points during the season.
And there was also what we've come to except from Crean and his staff: great player development. Bielfeldt went from a nice player at Michigan to one with more offensive freedom at Indiana and he capitalized in Crean's system, winning Big Ten sixth man of the year. OG Anunoby went from a player you didn't think would even contribute this year to an NBA prospect.
Crean's peace also popped up in other ways. He ditched a tie this season, instead going with an open collar and more relaxed look. He was less demonstrative on the sidelines. And in perhaps his best decision of the season, he scaled back walkthroughs and practices as Big Ten season went along, which ensured his team peaked into a Big Ten championship as the scheduled got tougher instead of faltering and running out of gas.
He kept his team in the moment day by day, tuned out the distractions and got great results on the floor despite key injuries to Blackmon Jr. and Robert Johnson. After having to drop some players due to off court incidents, the Hoosiers who remained formed a great bond and played for each other under his watch. It was clear to observers there was a great camaraderie and love on this team.
The Hoosiers finished the year with another top 10 offense in terms of offensive efficiency (sixth) and 73rd in defensive efficiency, a huge improvement from where they began in the non-conference.
As the season came to an end, Crean had gone from hot seat to Big Ten coach of the year, the underdog at it again.
Bottom Line: The 2015-2016 campaign was arguably the best job of Crean's IU tenure. After a shaky start, he stuck with the plan and his team eventually turned things around and played with a great confidence. This season marked Crean's second outright Big Ten championship in four years and his third trip to the Sweet 16 in his last five. Impressive stuff. This year's Sweet 16 run also happened because the team was able to beat a strong Kentucky team in the round of 32. But the year ended against a better team in that Sweet 16. It was a tough draw for Indiana, as it played North Carolina, arguably the best team remaining in the tournament in what was also arguably their best performance of the season. With a hungry IU fanbase wanting a return trip to Final Four and another national championship, there's still work to be done. But this season was certainly one to build upon.
Quotable: "I can't even begin to describe how proud I am of this group — these three and their teammates. With everything that they've accomplished this season and the things they've had to endure, to get to this point, and then even the things in-house with the injuries and situations like that that we've had to handle.
And every team goes through different stages. And they either really bond together or they fracture apart. And all this team did throughout everything is bond together to where it was just incredible. And it certainly hasn't hit me yet that it just ended. So I'll probably struggle with the questions of finality. But they've given everything to Indiana.
Yogi is leaving here as one of the great winners, and it's really no way anybody's going to be able to take that away from him. He's won two outright championships in four years. And he leaves obviously with the accolades, was a part of our two Sweet 16s in the last five years. And what these guys have done is remarkable. And it's been an absolute honor to coach them. And I can't put it into words anymore than that." – Crean after Indiana's season-ending loss to North Carolina
Previously: OG Anunoby, Juwan Morgan, Thomas Bryant, Harrison Niego, James Blackmon Jr., Robert Johnson, Collin Hartman, Troy Williams, Nick Zeisloft, Max Bielfeldt, Ryan Burton, Yogi Ferrell
Filed to: Tom Crean