That's A Wrap: Yogi Ferrell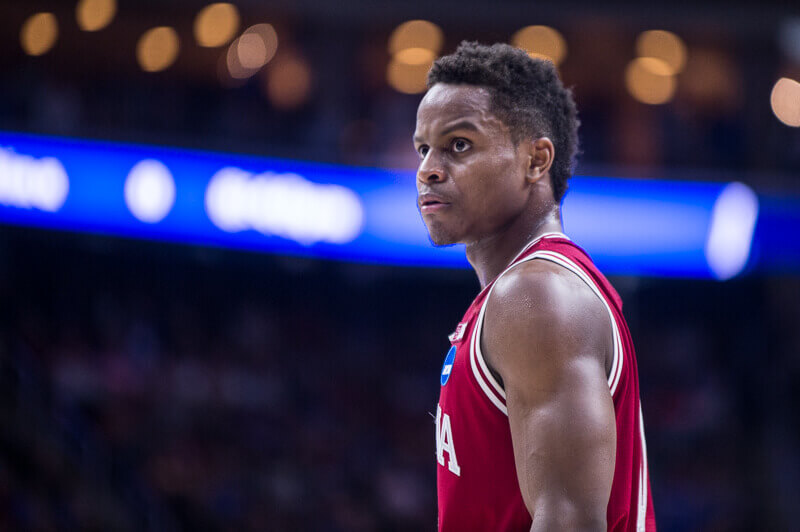 Welcome to "That's A Wrap," our player-by-player recap of the 2015-2016 Indiana Hoosiers. Today: Yogi Ferrell.
Ferrell (35 games): 17.3 points, 5.6 assists, 3.8 rebounds, 1.1 steals, 55.0% eFG, 82.9 FT%, 42.0 3PFG% in 34.7 minutes per game.
The list of awards Yogi Ferrell collected during his senior season in Bloomington is an impressive one.
First team all-Big Ten. Big Ten all-defensive team. Wooden Award All-American. Associated Press All-American. Cousy Award finalist.
And that's just a small sampling. His standing in the IU record books is perhaps even more impressive.
Ferrell finished as Indiana's all-time career assists leader with 633. He's sixth on the program's all-time scoring list with 1,986 points. He's first in career games played in an IU uniform with 137. He's second in career 3-point field goals made with 272.
His legacy as one of the top 20 players to ever wear the IU uniform is cemented.
But more impressive than the accolades and the records is the growth Ferrell showed both on and off the court throughout his time in Bloomington. We've written in the past about the evolution of Ferrell's role, but he saved the best stage for last.
As a senior, he was Indiana's unquestioned leader. And under his leadership, the Hoosiers were the best team in the Big Ten and one of the best in the country.
It was a transformation that seemed to be in limbo as the season approached and even as it got underway. In late August, Tom Crean commented that he was still looking for someone to step up and lead after Emmitt Holt was involved in an off court issue that led to his dismissal from the program. And in Maui, the Hoosiers lacked the cohesion to beat below average teams in Wake Forest and UNLV. An embarrassing loss at Duke only added to an underwhelming start of the season.
But from the second half of the Notre Dame game on, the Hoosiers were a different team and Ferrell was the catalyst in the turnaround. He was the team's leading scorer and facilitator and its best perimeter defender.
Late in an early season Big Ten win over Wisconsin at home, Ferrell took the game over and made key plays to lead the Hoosiers to a narrow victory in front of the undefeated 1976 national championship team. And late in the season after a double-digit lead had evaporated at Iowa and IU was in need of a big shot, Ferrell did this:
Ferrell primary focus as a senior was winning and that's what he did often.
With a 15-3 mark in the Big Ten and an undefeated season in Assembly Hall, Ferrell's play in his final college season is one that Indiana fans will remember fondly for a long time.
Rare is the elite player in modern day college basketball who sticks around his program for four years, but Ferrell was just that in Bloomington.
Bottom Line: His numbers are notable and records unlikely to soon be broken, but Ferrell going out with an outright Big Ten championship is what cemented him as one of the program's all-time greats. He'll leave Bloomington with two conference titles, a degree and a professional career ahead of him. While many are viewing Indiana as one of the teams to beat next season in the Big Ten, the loss of Ferrell will be difficult for the Hoosiers to overcome. Replacing a point guard is always tricky, but replacing one like Ferrell without a major dropoff in production doesn't happen often.
Quotable: "I'm very proud of this season. Of all four years, I feel like this has been one of the closer, connected teams in our approach to how we want to play for one another. Every guy is invested, every guy is not selfish with their own way. They want to play for each other. When that can happen, great things can happen. It was a good decision, obviously, for me to come back and play with such a special unit and I'm just happy for my guys." – Ferrell reflecting on his final season following IU's loss to North Carolina
Previously: OG Anunoby, Juwan Morgan, Thomas Bryant, Harrison Niego, James Blackmon Jr., Robert Johnson, Collin Hartman, Troy Williams, Nick Zeisloft, Max Bielfeldt, Ryan Burton
Filed to: Yogi Ferrell