That's A Wrap: Team offense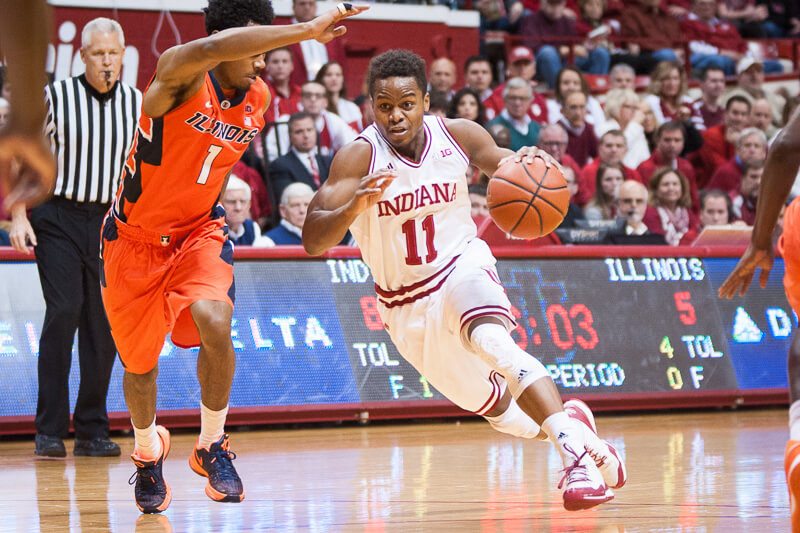 Welcome to "That's A Wrap," our recap of the 2015-2016 Indiana Hoosiers. Today: Indiana's offense.
Final stats (35 games): 82.6 ppg, 50.2 FG %, 58.7 eFG %, 41.6 3PFG%, 19.6 TO%, 33.9% FTR.
Indiana's offense was elite in the 2012-2013 and 2014-2015 seasons, but the Hoosiers took things to another level in 2015-2016.
A look at this season's numbers, in comparison to those aforementioned seasons, bears that out:

This was Indiana's best offensive team to date under Tom Crean in a variety of statistical categories. Among them: points per possession, effective field goal percentage, 3-point field goal percentage, 2-point field goal percentage, percentage of shots blocked and points per game.
The combination of an elite point guard (Yogi Ferrell), a big man who finished at a ridiculous clip (Thomas Bryant) and shooters on the perimeter made the Hoosiers one of the nation's most difficult teams to cover.
Any conversation regarding the offense begins with Ferrell. In his final act as a Hoosier, he posted career bests in both effective field goal percentage (55) and assist rate (28 percent). It is sometimes hard for point guards who have the ability to score to strike a balance between looking for their offense and distributing, but Ferrell did it as well as any guard in the country. After setting the career assists mark in January in a win over Illinois, Ferrell's vision continued to improve as the season moved along:
The missing piece for the Hoosiers in 2014-2015 was a reliable big man who could finish plays. Enter Bryant, a McDonald's All-American and Jordan Brand All-Star who signed in April of 2015. His impact was felt early and often throughout his freshman season. The 6-foot-10 center made an astounding 70.7 percent of his 2-point field goal attempts, which ranked fourth in the country. He was also a reliable free throw shooter as he posted an above average free throw rate (FTA/FGA) of 59.1 percent and converted on 70.6 percent of his attempts at the line.
Beyond those two, there were plenty of other success stories on the roster who collectively made IU's offensive engine roar.
Max Bielfeldt arrived as a grad transfer from Michigan and showed off a perimeter touch that wasn't a huge part of his repertoire in Ann Arbor. The 6-foot-8 forward hit 45.3 percent of his 3s on his way to winning the Big Ten's sixth man of the year award.
In his second season as a graduate transfer from Illinois State, Nick Zeisloft again lit it up from distance in knocking down 41.7 percent of his 3s. A more experienced Robert Johnson refined his jump shot and the result was an increase of about six percent from deep. Before he went down for the season with a knee injury, James Blackmon Jr. was lighting it up from the distance (46.3 percent).
Troy Williams continued as a versatile offensive threat with a strong 56.4 percent mark on 2s and a respectable 34.7 percent mark on 3s. Freshmen Juwan Morgan and OG Anunoby finished well in the paint and also proved capable of knocking down 3s. And Collin Hartman, who didn't shoot it as well on 3s in his third season, did improve his 2-point field goal percentage by nearly four percent.
Add it all together and this is what the Hoosiers shot chart looked like for the season: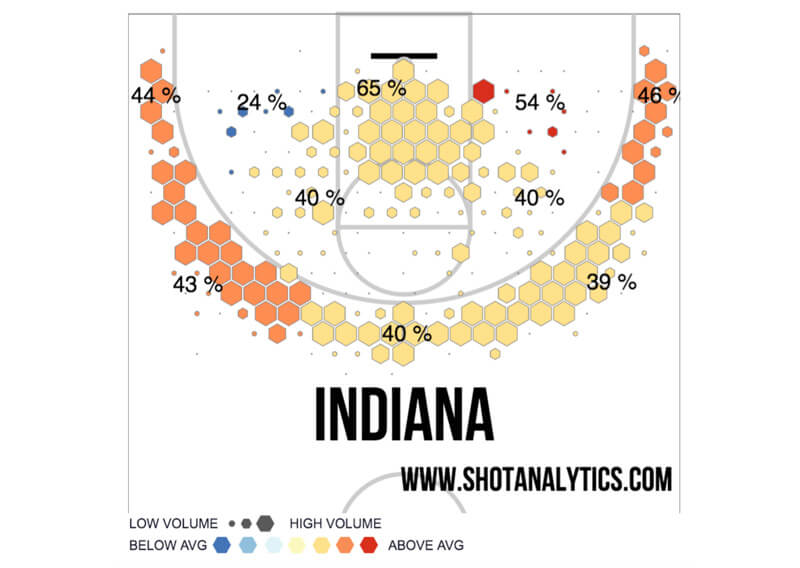 Despite a turnover percentage that was problematic at times and some difficulty getting to the line, Indiana's ability to shoot from distance and finish at the rim made it a force to be reckoned with.
Bottom Line: There were very few instances this season when Indiana's offense wasn't up to the task of finding ways to score. Even in an early season blowout loss at Duke, the Hoosiers put up 1.19 points per possession and scored 74 points. The Hoosiers also hung 86 on eventual national runner-up North Carolina in the Sweet 16. For the conference season, Indiana scored 1.16 points per trip, ranking the Hoosiers second in the conference behind Michigan State. Smart shot selection – the Hoosiers rarely took long 2s – coupled with elite 3-point shooters and Bryant made the offense the most efficient so far in the Crean era. It was a big reason Indiana captured its second outright Big Ten title in the last four seasons.
Quotable: "I'm not going to have any excuses. They're really good at what they do and we couldn't stay in front of them, and few people have, they're averaging 80 damn points a game, few people have. Better teams than us probably have done better." – Michigan coach John Beilein following Indiana's 80-67 win over the Wolverines at the Crisler Center.
Previously: OG Anunoby, Juwan Morgan, Thomas Bryant, Harrison Niego, James Blackmon Jr., Robert Johnson, Collin Hartman, Troy Williams, Nick Zeisloft, Max Bielfeldt, Ryan Burton, Yogi Ferrell, Tom Crean
Filed to: