2013-2014 Player Profile: Will Sheehey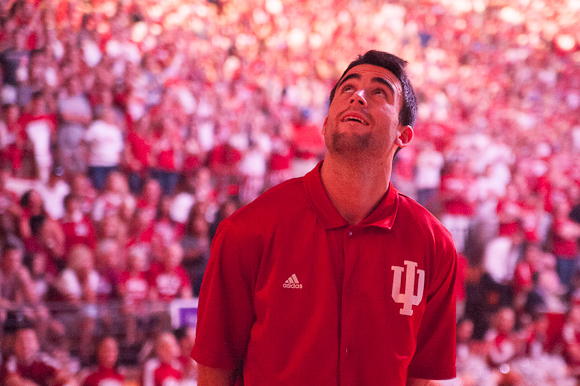 With the start of college basketball season on the horizon, we took a long look at the conference at large as well as Indiana's roster over the last month. Today, we conclude the series with Will Sheehey.
One never knows the future, and predictions are often a silly endeavor, but here's something I'll stick my neck out on: As Will Sheehey's senior season hits amidst a host of departures and gaps to fill, his game ain't changing.
And it's for the best.
The Hoosiers need the scoring to come from somewhere, yes. But it's got to be more about a collective effort from the team than a shift in style from the senior. No need to start trying to take guys off the dribble or suddenly attempt four or five 3-pointers a game. Sheehey simply needs to do what he's always done — just smarter, better, stronger. He is a master of the sneaky angles on the baseline when he catches the defense sleeping, breaks to the hoop, finds the pass and dunks it home. He needs to continue to get buckets in the mid-range on both the break and in the halfcourt. He needs to remain a pest on defense.
The Florida native seems to agree. In a Q&A with old friend Justin Albers, he spoke of being an efficient scorer on offense over being a volume shooter because the latter isn't his game. Of taking less and making more. Sheehey also said in the below video from media day that he views everyone on the team as equals and doesn't quite see himself as The Man despite his senior status. But his word is sure to carry weight with the freshman and he seems to recognize his role in guiding them down the right path as they begin their Hoosier careers.
"They have to be respectable to everyone and everything," Sheehey said. "Someone's always watching you around Bloomington. So they got to make sure they really represent the University well."
Bottom Line: From a rough freshman season to back-to-back Sweet Sixteen appearances, Sheehey's unique perspective on Tom Crean's program should serve him well in a leadership role this season — whether he wants to label himself or not. His average numbers the last two seasons have been similar in terms of minutes (22.4 and 22.2) and points (8.6 and 9.5), but he could be in line for more time as a starter this season.
And if he's able to score more efficiently while he's on the court, a few extra points a game from him seem well within reach. Some Big Ten honors could also await Sheehey at the end of the season if he's able to put together a strong swan song during his last season wearing the cream and crimson.
Quotable: "I don't put value on myself over any of my other teammates. I wouldn't say I'm 'the guy.' I'm one of many. It's funny, I get all these titles, 'leadership,' 'the guy' — just because I'm old. I want to make sure that everything is even and everyone is treated the same." — Sheehey at media day.
Previously: Evan Gordon, Austin Etherington, Jeremy Hollowell, Hanner Mosquera-Perea, Peter Jurkin, Yogi Ferrell, Luke Fischer, Noah Vonleh, Devin Davis, Stanford Robinson, Troy Williams, Collin Hartman
Filed to: 2013-2014 season preview, Will Sheehey