2013-2014 Player Profile: Peter Jurkin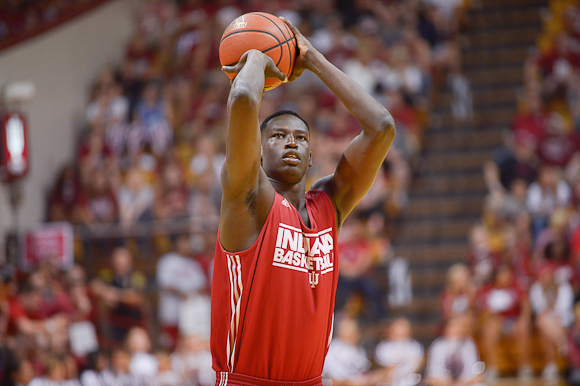 With the start of college basketball season on the horizon, we'll be taking a long look at the conference at large as well as Indiana's roster over the next month. Today, we look at sophomore Peter Jurkin.
In his first season at IU, perhaps the only thing more telling about Peter Jurkin than his raw skills was his health.
As someone who had battled injuries during his entire high school career, Jurkin came into his freshman year with an undisclosed foot injury, which severely limited his minutes. In fact, he had a total of seven minutes of action all season, playing in only the Florida Atlantic, Jacksonville and Penn State games after returning from a nine-game NCAA suspension.
However, Jurkin didn't face much pressure coming into his freshman season to come in and play immediate minutes, especially with an All-American center ahead of him on the depth chart in Cody Zeller. Now, Zeller's gone.
And heading into the 2013-2014 season, Jurkin is one of only two centers on Indiana's roster, the other being freshman Luke Fischer, who has battled injuries this preseason as well.
As far as Jurkin's health is concerned, it's what's limited him in being able to develop over the past three seasons. As of now, though, he is getting back to where Indiana coach Tom Crean wants him to be.
"He has never been in a situation where he has just been absolutely able just to lay it out there, health-wise," Crean said at his "State of the Hoosier Nation" address on Oct. 2. "He's getting closer to it.
"There's a guy we're really hoping can come in and make some shots, block some shots and space the floor."
When healthy, Jurkin can truly provide valuable minutes. During the 2013 Hoosier Hysteria scrimmage, Jurkin scored six points on a tip-in, a post-up and turnaround layup and a jump shot. He ran the floor, he rebounded well; it was a Peter Jurkin that fans hadn't seen that level of production from him —  granted, it's still a scrimmage — in his entire career at IU.
Jurkin, however, might again miss a decent amount of time in the preseason. His father is severely ill in Sudan, and Indiana is currently working through NCAA paperwork to send Jurkin back home to visit him in the next couple weeks.
Once IU gets him back, though, a healthy Peter Jurkin might find his way into proving himself as an asset on the Hoosiers' roster.
Bottom line: As Crean said in his "State of the Hoosier Nation" address, Jurkin has never been at full-go in his time at IU. He missed important time due to the NCAA suspension, and then missed much of the season after that due to a foot injury. But heading into 2013-2014, Jurkin is seemingly healthy. And a healthy Jurkin indicates he is nearing a point where he can be able to contribute meaningful minutes to a young IU squad.
Quotable: "I've just been getting back in shape, getting healthy and playing hard. Just focusing on my weaknesses: basically staying low, speed, footwork and my jump shot. I just have to work hard and play defense." — Jurkin at Indiana media day.
Previously: Yogi Ferrell, Luke Fischer, Noah Vonleh, Devin Davis, Stanford Robinson, Troy Williams, Collin Hartman
Filed to: 2013-2014 season preview, Peter Jurkin