2013-2014 Player Profile: Yogi Ferrell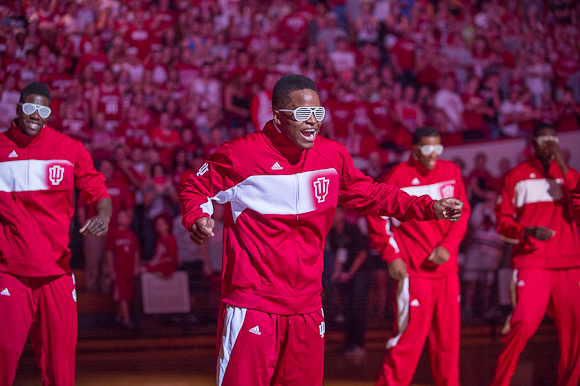 With the start of college basketball season on the horizon, we'll be taking a long look at the conference at large as well as Indiana's roster over the next month. Today, we look at sophomore Yogi Ferrell.
Friday's Hoosier Hysteria, like last season's, opened with a dance routine. But the front man from the last two Hysteria's, Victor Oladipo, was in Orlando preparing for his rookie season with the Magic.
That opened up the opportunity for the man who's being counted on to help lead the 2013-2014 version of the Indiana Hoosiers, Yogi Ferrell, to get his first taste of being the front man in Bloomington.
How Ferrell adapts to his new role once the season tips off a month from today will be a major factor in just how dangerous this Indiana team, one of the youngest in the Big Ten, can become.
As a freshman, Ferrell started all 36 games for a team that won the Big Ten championship and advanced to the Sweet 16. But after a high school career in which he had the ball in his hands constantly and had to score out of necessity when it counted for his team to win, Ferrell shifted to more of a facilitating role in his first collegiate season.
Whether his numbers suffered as a result of that shift remains to be seen, but Indiana will need Ferrell to become much more efficient in several key areas as a sophomore. As a distributor, Ferrell posted an assist rate of 25.7 as a freshman, which was good for eighth among Big Ten players. His turnover rate of 24.5, however, was the highest among IU's regulars, a number Ferrell would like to improve.
Ferrell did his best shooting a season ago from the foul line, as he got there at a reasonably good rate (37.2 percent) and knocked down 79.8 percent of his attempts. His 3-point shooting was a major emphasis for offseason development as he knocked down just 30.3 percent from distance last season.
Ferrell was Indiana's second-best perimeter defender last season and as important as his improvements on offense from an efficiency standpoint are, the Hoosiers need him to develop into a guy who can consistently lock down opposing point guards. The talk of a potential drop in offensive efficiency for this year's Hoosiers is an obvious concern, but a return for the defensive numbers to the pre-Cody Zeller era would be problematic. It all starts on the perimeter and Ferrell must be the leader.
Bottom line: There's no doubting Ferrell has the talent to make a major leap as a sophomore and for the Hoosiers to reach another NCAA tournament, the sophomore from Indianapolis will need to lead as one of Indiana's most experienced players. The good news is that early returns suggest that Ferrell's shot has improved from the perimeter. As a player who needs to establish that part of his game from the start of the season, early success could go a long way in boosting Ferrell's confidence that he can be one of Indiana's go-to scorers in addition to its floor general.
Quotable: "The No. 1 thing with Yogi was will he be demanding enough of himself and of his teammates to keep taking steps, because Yogi has got tremendous gifts. He's got great speed. His shot is definitely getting better all the time. … Yogi has got a chance, because of his ability on the defensive end, his ability with the ball and his ability to shoot and find people, to be really, really good. Will that leadership be demanded enough of his teammates day in and day out? That will be the crux of it." – Tom Crean on Ferrell at his "State of the Hoosier Nation" speech at the IU auditorium.
Previously: Luke Fischer, Noah Vonleh, Devin Davis, Stanford Robinson, Troy Williams, Collin Hartman
Filed to: 2013-2014 season preview, Yogi Ferrell