2013-2014 Player Profile: Devin Davis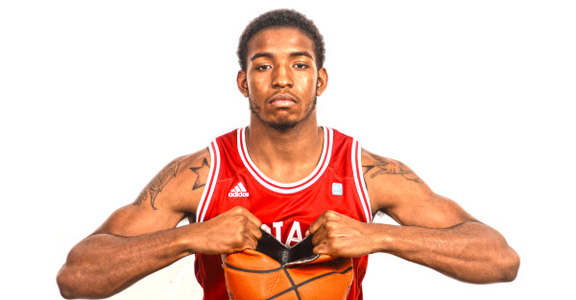 With the start of college basketball season on the horizon, we'll be taking a long look at the conference at large as well as Indiana's roster over the next month. Today, we look at freshman Devin Davis.
Friday's Hoosier Hysteria has been a long time coming for Devin Davis.
The 6-foot-7, 221 pound forward from Warren Central in Indianapolis gave a verbal commitment to Indiana in November of 2010, not long after the Hoosiers received a signed National Letter of Intent from Cody Zeller.
If it was Zeller's signature that made it cool for in-state kids to come to Bloomington once again, it didn't take long for the program to reap the benefits as both Davis and Collin Hartman committed just 10 days later.
At one time, Davis was considered a top 25 recruit nationally by ESPN.com, but his stock gradually fell over his high school career over concerns about his position in college. Fair or not, the knock was that Davis lacked the size to play the four but didn't have the ball skills to move out onto the floor and play the three.
Prior to his arrival in Bloomington in June, Davis worked diligently on his ball handling skills with Eric Gordon Sr., which should make him a candidate to find time at multiple positions in Indiana's rotation. His outstanding motor and hustle should quickly endear him to fans and on a team with plenty of playing time available, Davis has a chance to crack the rotation from day one because he rebounds the ball very well.
"One of the areas he fits in is being that high energy guy off the bench that can come in and maybe provide that spark," Matt Green, Davis' AAU coach with the Eric Gordon All-Stars, told Inside the Hall over the summer. "He can defend different positions, rebound the basketball. There's always time for those types of guys."
The ability to defend multiple positions is key for Davis as that versatility will allow Tom Crean and his staff to use the freshman, who is underrated as an athlete, in a variety of roles. Couple that with a player who still has room to grow with his ball handling and shooting ability and Davis appears to be a solid addition that should continue to expand his role as his career progresses.
"He's worked on his ball handling, just different ways to score the basketball, being able to attack the basket," Green said. "He's definitely been working on his jump shot, trying to extend his range and how his form is so he can shoot it at a high level."
Bottom line: Beyond Noah Vonleh, Indiana's frontline has plenty of uncertainty and despite being undersized to play the four, Davis figures to get an opportunity to contribute right away because of his effort and ability to rebound. He may never be counted on as a featured scorer, but he's too athletic and too talented to not grow into a positive contributor in Bloomington.
Quotable: "Tremendous athlete, plays with great energy. It's fun to watch him do the things he's capable of doing now that he's healthy. He can get to the basket. He has the ability to score on both sides of the rim. He can go coast to coast. He can be a pretty good shooter. He epitomizes versatility and multidimensional ability on both ends." — Crean on Davis after signing day last fall.
Previously: Stanford Robinson, Troy Williams, Collin Hartman
(Photo credit: IU Athletics)
Filed to: 2013-2014 season preview, Devin Davis