2013-2014 Player Profile: Troy Williams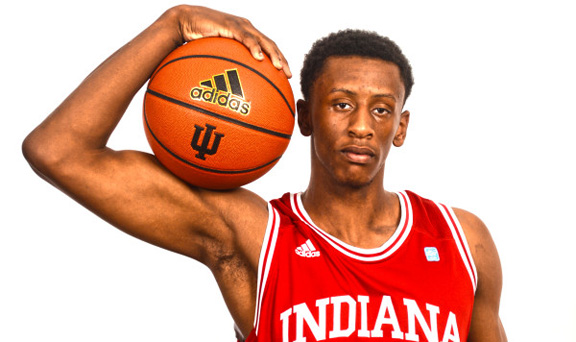 With the start of college basketball season on the horizon, we'll be taking a long look at the conference at large as well as Indiana's roster over the next month. Today, we look at freshman Troy Williams.
While fellow freshman Noah Vonleh possesses the most basketball talent out of the freshman class, it's Troy Williams high-flying, energetic style of play that might endear him most to Indiana fans. There is a youthful exuberance to Williams' game; he makes it all look so fun. (This is a kid, after all, who has proclaimed he's still trying to give the dunk contest a go despite a right hand injury.)
Williams' pedigree and accolades are well-known at this point. The Virginia native played AAU ball for his uncle, Boo Williams. He was named Gatorade Player of the Year in Virginia and spent his senior season playing for Oak Hill Academy, a program that's pumped out NBA talent like Carmelo Anthony and Rajon Rondo. A stat stuffer, he averaged 16.2 points, 7.5 rebounds, 4.0 assists and 2.0 blocks during his senior season. More recently, Williams picked up MVP honors at the Derby Festival Basketball Classic.
RELATED: Troy's Story
But Williams, like plenty of other freshmen around the country, still has an underdeveloped all-around game. And while his style of play is exciting, it's also one that could stand some sharper discipline as he assimilates to the college game, lest he become The Undisciplined One, Take II.
"He was a freak athlete that I felt when I got him didn't have a real great feel for how to play," said Oak Hill coach Steve Smith when he got Williams for his senior season. "I thought, 'Man, he takes some bad shots, forces up stuff.'"
Of course, if there's any coach that can take raw athleticism to the next level, it's Tom Crean and Indiana. When Williams committed, he cited Crean telling him what he needed to improve about his game as one of the reasons he believes he's a great coach. Williams' highlights reels are filled with blocks; a stronger understanding of on-ball and team defense could make him elite on that end. On offense, Williams is great around the rim and is sure to get looks on the break. But his jumper, though not too bad, could stand more polish. And when things tighten up in the half court in the Big Ten, Williams will need to understand proper spacing and movement.
But if he's willing to put in the work and follow in the footsteps of Victor Oladipo and others before him, his game should continue to grow and improve.
Bottom Line: While Williams is currently out with a right hand injury, he figures to draw some strong minutes off the bench in his freshman season. His athleticism makes him a threat on both ends of the court and should help much with bench depth, an area where Indiana found itself exposed at times last season. Williams is sure to produce some jaw-dropping plays this season and become a fan favorite — if he isn't already.
Quotable: "My uncle was my father figure. He still is. I think he always will be. He grew me up, showed me how to mature and all that. He taught me new things and taught me right from wrong. He's replaced my father with himself. When I go through mental stuff or I just have a question, I either go to him and then my Aunt Terri." — Troy Williams
Previously: Collin Hartman
(Photo credit: IU Athletics)
Filed to: 2013-2014 season preview, Troy Williams