2013-2014 Player Profile: Stanford Robinson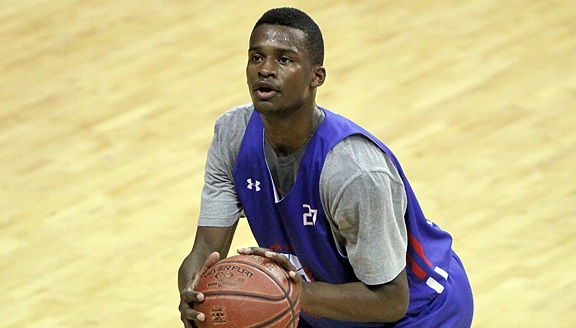 With the start of college basketball season on the horizon, we'll be taking a long look at the conference at large as well as Indiana's roster over the next month. Today, we look at freshman Stanford Robinson.
Following the departures of Victor Oladipo, Remy Abell and Maurice Creek this past offseason, Indiana has been left thin at shooting guard. Along with it, 77 percent of the Hoosiers' 3-point production from 2012-2013 is gone.
Enter freshman Stanford Robinson, a 6-foot-4 Landover, Md., native, who is the Hoosiers' only scholarship player at the position this year.
What that means is that Robinson could get on the court early as an Indiana Hoosier, filling a void left by those multiple departures.
Where he will immediately be able to help is the slashing game, as Robinson is widely known for his athleticism and his ability to get to the net. Indiana might need Robinson for his shooting though, more than anything.
Robinson is regarded as a streaky shooter from the outside, and he knows that. At Indiana's media day, he said improving his jump shot has been his biggest priority this past offseason.
"I feel like my jump shot has improved tremendously," Robinson said. "Coach Crean, he's been telling me to jump into my shots because I'm a rhythm shooter, so getting my left-right together has helped me with my jump shot a lot. I've been beating a couple of my teammates in shooting games and things like that, too.
"Also I've been keeping my dribble out in front, keeping it tight, staying low. I've improved my game a lot."
Since he arrived on campus, Robinson has bulked up to 193 pounds with the help of IU's strength and conditioning coach, Je'Ney Jackson. With competition for playing time much more intense this season, that weight gain has helped, Robinson said.
"It's a battle with everything we do; no matter if it's weights, sprints, conditioning or on-court drills," Robinson said. "It's always a competition, and I think that will make me ready for the season."
Bottom line: Indiana has only three guards on scholarship this season, and other than Robinson, both are only 6-feet tall. The height advantage could help Robinson find immediate playing time at shooting guard this season, and he might play point guard at times, as well. He already has no problem getting to the basket and can make plays from his slashing ability, but should he find consistency in his outside shooting game, Robinson could prove to be a valuable asset on this season's squad.
Quotable: "He came a long way. Stan loves basketball. A lot of guys, once they get to a certain level, become almost mini celebrities and they end up loving that part of it more than the game. I don't think that's happened with Stan. He doesn't need somebody to drag him up there [to the weight room]. I don't think he's a buddy workout guy. I think he's got an idea in his head, 'This is what coach wants, this is what I gotta do. Coach says I need to do this, this is what I gotta do.' He's driven." — Robinson's Findlay (Nev.) Prep coach, Todd Simon, now an assistant at UNLV
Previously: Troy Williams, Collin Hartman
Filed to: 2013-2014 season preview, Stanford Robinson