2013-2014 Player Profile: Collin Hartman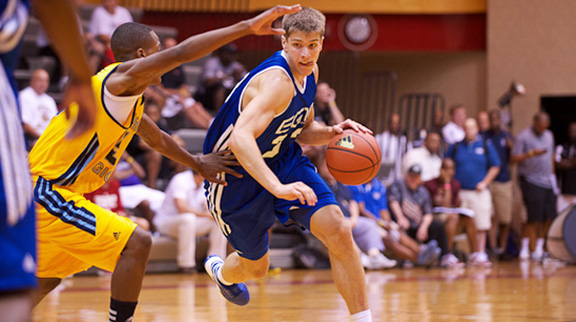 With the start of college basketball season on the horizon, we'll be taking a long look at the conference at large as well as Indiana's roster over the next month. Today, we start our look at Indiana's roster with Collin Hartman.
Collin Hartman has been waiting for this season for the past three years.
Having committed to Indiana as only a sophomore at Cathedral High School on Nov. 21, 2010, Hartman has finally made it to Bloomington as a member of the IU men's basketball team. And heading into this season, Hartman might be able to immediately fill a void on the Hoosiers' roster as a true freshman.
A 6-foot-6 wing known for his shooting capability, Hartman could immediately provide scoring help from the perimeter after IU lost 77 percent of its 3-point production from last season. After all, IU's only returning players who made a 3-point shot last year are Yogi Ferrell, Will Sheehey, Jeremy Hollowell and Austin Etherington.
"He brings something that we are really going to need based on the fact of who we're losing in this class of seniors, and that is outside shooting ability, and the first thing that grabs you about Collin is his ability to make outside shots," Indiana coach Tom Crean said in December 2012. "The more you watch him, and we were able to see this from his ninth grade season on, is that he has a tremendous court sense."
Beyond his jump shot, though, Hartman still has room to develop the rest of his game. Though he has a high basketball IQ and is an underrated passer, Hartman can find himself shooting jump shots when alternative ways of scoring might be the smarter option.
That said, he will have the time to develop that part of the game while he is in Bloomington, and he's made it one of his priorities since arriving on campus this past spring.
"I just have to make a conscious effort to focus on slowing down and focus on not trying to catch a ball and go 100 miles per hour, but just catch a ball look and just kind of look and see the progression like the older guys and try to let the game come to you instead of forcing your game," Hartman said at Indiana's media day on Thursday.
Since arriving on campus, Hartman already has gained 15 pounds under the watch of strength and conditioning coach Je'Ney Jackson. Heading into this season, that could play a pivotal role in his adjustment to the college level of play and the possibility of earning a spot in IU's rotation.
"I'm in the best shape of my life condition-wise, and I've put in a lot of work. That's an everyday thing," Hartman said. "You've got to come in and work hard every single day and it's not just take a day off here and there. I've been lifting a lot of weights and I'm going up in weight."
Bottom line: Though Hartman comes into IU as its lowest-rated recruit in the 2013 class according to the 247 Composite, Hartman immediately brings to the table something IU might lack. His perimeter shooting presence is what IU needs, and Hartman could find playing time in that role this season. Should he show that consistency and improved court presence during practice and the first two exhibition games, Hartman could find his way into the rotation and get solid playing time in 2013-2014.
Quotable: "The games are a lot faster, guys are a lot stronger and days are a lot longer. 90 percent of the game is mental. Some places you can come in and not really be focused and still get by, but here it's going to test you mentally and physically every day. You just have to come in mentally focused and ready to go." — Hartman at Indiana's media day
Filed to: 2013-2014 season preview, Collin Hartman