Freshman Focus: Stanford Robinson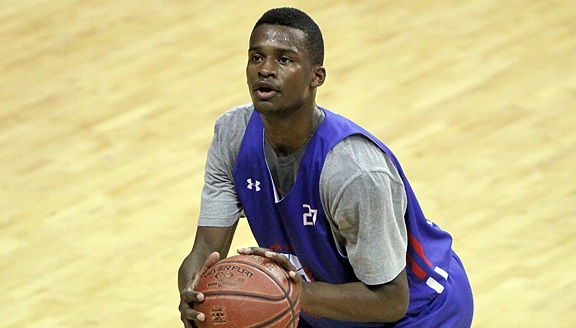 "Freshman Focus" is an Inside the Hall series on each of Indiana's six incoming freshman. Over the next couple of weeks, we will examine what kind of an impact each player can have for the Hoosiers next season. Today: Stanford Robinson. (Photo via 247Sports)
On an average Saturday afternoon last month, Findlay Prep coach Todd Simon was giving some families a tour of the Nevada private high school. He walked past the weight room around 3 p.m., and there was Indiana commit Stanford Robinson lifting by himself.
That's just one example of the work ethic Robinson has developed at Findlay. Robinson, a 6-foot-4 guard, will arrive on campus in less than two weeks.
"He came a long way," Simon, who coached Robinson for one season, said. "Stan loves basketball. A lot of guys, once they get to a certain level, become almost mini celebrities and they end up loving that part of it more than the game. I don't think that's happened with Stan.
"He doesn't need somebody to drag him up there [to the weight room]. I don't think he's a buddy workout guy. I think he's got an idea in his head, 'This is what coach wants, this is what I gotta do. Coach says I need to do this, this is what I gotta do.' He's driven."
With the graduation of Jordan Hulls and Victor Oladipo's decision to leave school early for the NBA, the Hoosiers have a bit of a void in the backcourt. Rising sophomore Yogi Ferrell figures to start at point guard for the second consecutive season, but the starting shooting guard position appears to be wide open.
Arizona State transfer Evan Gordon is one option, but Robinson may be an even better one. He's bigger than Gordon at about 6-foot-4, which would keep Indiana from starting two small guards like it did a season ago, something that could especially help on the defensive end.
"He's rangy, he gets his hands on a lot of balls," Simon said. "He's a strong guard. He can compete with guys bigger than him because he's competitive. In a lot of ways, he's going to be ready to help early.
"I think he'll show up in pretty good shape and physically be pretty close to being able to help. He really worked hard on his strength here. Stan really figured out how to play hard, hard enough to match the NCAA level of intensity. He's a very good transition player, very good slasher at attacking the basket. He came light years on the defensive end. He's got a little work to do, but he's probably closer than the average freshman at being able to help defensively early on."
One serious area of need for the Hoosiers is perimeter shooting. Indiana lost a lot of production from Hulls, Oladipo and Christian Watford, and it may not immediately be able to replace it. But in the last couple of years, Robinson has improved dramatically as a shooter and may be able to help the Hoosiers in that area.
"He got a lot better here," Simon said. "I think a lot of it for him was defining when and where his shot was and also shoring up his release a little bit. He kind of had a little bit of a drawn out release, but he did a nice job of tightening up his shot pocket. A lot of his balance and those things improved as his core and his strength training kicked in. That certainly made him a more consistent shooter.
"Would I put him in a great shooter category? You know, he's still got work to do. But all of his mechanics are there and he shot a decent percentage for us this year."
Whether or not Robinson lands the starting job at shooting guard, he will likely spend some time playing point guard in a backup role for Ferrell. Gordon and walk-on Jonny Marlin are other options.
Simon said he and his staff spent a good part of Robinson's senior season getting him ready to play point guard, per Tom Crean's request.
"That was our focus, especially the second half of the year with him, was getting him ready for that," Simon said. "There were a couple of scrimmages where he played 32 minutes straight at the 1 and didn't come off the ball. We tried to get him to understand that at that position, wins and losses are on you, the pressure's on you to get everybody in right spots. He came a long way at it."
Filed to: Freshman Focus, Stanford Robinson