Freshman Focus: Troy Williams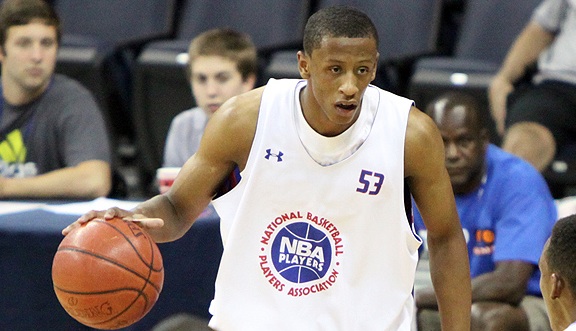 "Freshman Focus" is an Inside the Hall series on each of Indiana's six incoming freshman. Over the next couple of weeks, we will examine what kind of an impact each player can have for the Hoosiers next season. Today: Troy Williams. (Photo via 247Sports)
When Troy Williams transferred from Phoebus High School to Oak Hill Academy before his senior year of high school, he was very much an unpolished basketball player with ridiculous athleticism.
"He was a freak athlete that I felt when I got him didn't have a real great feel for how to play," said Oak Hill coach Steve Smith. "I thought, 'Man, he takes some bad shots, forces up stuff.'"
Smith knew he had plenty to work with in Williams, but it wasn't always easy to get him to understand how things worked at Oak Hill. Williams had come from a public high school were he was the unquestioned star. He could take any shot he wanted, and he didn't have to work particularly hard to earn those shots.
At Oak Hill, one of the premier prep schools in the country, it was different. Whereas Williams' fall months at Phoebus would be spent almost entirely on the basketball court, he was required to work on his body away from the gym much more at Oak Hill.
The team had to run the mile on a daily basis in addition to their weight lifting and speed and agility work during the offseason.
"He wasn't the most motivated guy when he first got here," Smith said. "He did it, but at first it was like, 'Wow, we have to do this all the time?' He wasn't used to that. He hadn't done that before."
The good thing for Williams is the wake-up call came during his senior year of high school and not his freshman year of college. The 6-foot-6 forward arrived on campus Tuesday and now should have a much better understanding of what it will take to get regular minutes at the collegiate level.
"The year he spent here at Oak Hill will help him tremendously," Smith said. "He traveled, he kept his grades, he went through study tables, he went through nine months of workouts as well as practice, all the stuff you do in college."
Williams was the best player on his team at Oak Hill, averaging better than 16 points per game last season. He had multiple triple-double performances near the end of the season, and Smith said he finally learned he could impact the game in ways other than scoring.
Still, though, one of the question marks that remains about Williams is his ability to shoot the ball from the perimeter. His 3-point percentage was down around 30 last season.
"He likes to shoot 3s and he works on it," Smith said. "In games, if he gets open, he'll sometimes rush the shot. He went through a stretch during the year where I had to sit him down and say, 'Troy, you're like five for you last 28 3s in your last six games. Let's get to the basket, let's shorten the shots.' We tried to get him not to take them on the first pass. When he comes down in transition and just fires up a 3, he's not gonna make those shots.
"I think he felt like he had to prove to people, 'I can make a 3.' He doesn't have to prove that to anybody."
Smith said Williams' 3-point numbers were harmed by the fact he would hoist up one or two bad shots from beyond the arc per game.
He likely won't have to shoot that many 3s at Indiana, but Williams will have to develop a more consistent perimeter shot to keep defenders honest. Luckily for him, Indiana coach Tom Crean has a good track record of helping players develop outside shots, as evidenced by Christian Watford and Victor Oladipo.
Next season, Smith sees Williams playing a similar role to the one he played at Oak Hill last season.
"He's not gonna average 16 a game as a freshman, but I think the things he did for us he can do there.," Smith said. "He'll rebound, he'll defend, he's great in transition, he's improved his shot.
"He has no illusions of being one and done like a lot of kids. They all want to play in the NBA, that's their goal, but he's at Indiana to get better and develop as a player, help them win games. And if he's ever ready to go, then fine, but he's not like some guys who are in there as a freshman just trying to make a name for themselves and then move on. He picked Indiana because of the tradition, he picked Indiana because he thought they had a chance to win. And that's what he wants to do."
Filed to: Freshman Focus, Troy Williams