Quentin Goodin returns from injury at USA Basketball camp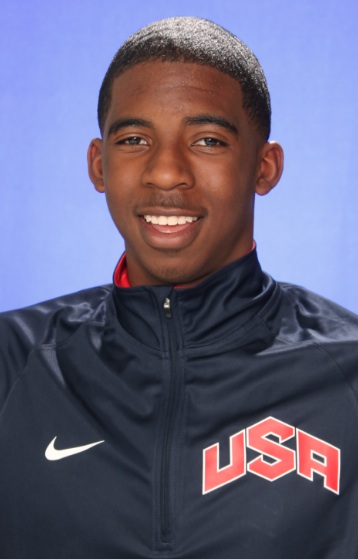 Quentin Goodin wasn't going to allow a broken right hand to keep him from competing against the nation's best.
The Taylor County (Ky.) guard, who is rated the No. 29 prospect in the class of 2016 according to the 247Composite, played through an injury over the weekend at the USA Basketball men's developmental national team mini-camp in Colorado Springs, Colorado.
"I was playing hurt this whole weekend, trying to work things out," Goodin told Inside the Hall by phone from Colorado Springs on Sunday night. "I didn't get to play the last two games but I think showcased myself pretty well."
The 6-foot-2, 175 pound point guard is among the elite players who will be considered for the men's U17 roster for the FIBA World Championships in Dubai next summer.
"The experience has been amazing with all of the competition and new talent," he said. "It's fun playing with the older guys. Everybody out here is competitive. I just try to play my game and go against people as hard as I can."
This weekend was Goodin's first back on the court after a hand injury sidelined him for several weeks.
"I broke my hand in practice. I'm just now being able to start dribbling and shooting again," Goodin said. "I got to shoot a little bit two or three days before this and dribble. The process is taking a while, but I'm going to be good."
Goodin, who has scholarship offers from Indiana, Oklahoma State, Northern Kentucky, Samford, Tennessee, UAB and Western Kentucky, told Inside the Hall in July that the Hoosier staff was pursuing him the hardest.
Is that still the case?
"Indiana's still up there. I enjoyed Indiana," Goodin, who has taken multiple unofficial visits to Bloomington, said. "It made me feel like I was a part of something. What coach Crean said, me being a priority, still means a lot to me."
As a freshman at Taylor County, Goodin averaged 16.1 points for a team that finished as the runner-up in Kentucky's fifth region. His goals for his sophomore season are decidedly higher from a team and individual standpoint.
"I plan on trying to go to state. We haven't been in like 30 years," he said. "I'm going to try to increase my game by getting my shot up higher. My coaches tell me that my shot is still a little bit low. I'm still working on it. I'm going to keep working to get it up higher."
Filed to: Quentin Goodin