2015 guard Aaron Jordan recaps Indiana visit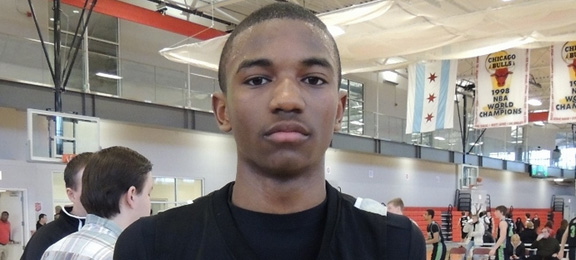 Late Thursday night, as 2015 Plainfield East (Ill.) guard Aaron Jordan and his father explored the scene around Cook Hall and Assembly Hall, Jordan found his lasting memory from the visit.
On his first-ever unofficial visit to IU, Jordan saw dozens of fans camped out outside of Assembly Hall watching television and eating pizza, anticipating Hoosier Hysteria the following day. Jordan had never seen anything like it.
"I was just like, 'Wow'," Jordan said. "The fans of the whole school are basically about basketball, and that's what I like. Everything is surrounding basketball. It's a great environment to be in."
Two weeks earlier, Jordan had been playing open gym at his high school when Indiana coach Tom Crean arrived and offered him a scholarship. He said the offer immediately put IU "right near the top," and in the days leading up to his visit, friends were hyping the school up to him.
After arriving Thursday night and watching a practice and Hoosier Hysteria on Friday, Jordan said he now sees what they were talking about.
"When I got down there, it was amazing and eye-opening," Jordan said. "And I just saw all the fans interacting and getting excited. I see myself fitting in at Indiana."
During his visit, Jordan and his father, Rob, also had the chance to sit down for a meeting with Crean.
"We talked about where I stood in his recruiting and they said I'm pretty much a must now," Jordan said. "It's really important that they build this relationship and I get down to Indiana as much as I can."
And Jordan wants to get back to Indiana. After watching the team practice for two hours, before Hoosier Hysteria, Jordan liked what he saw.
"I got a good feel for coach Crean and how he ran things, and they're looking good," Jordan said. "I plan on coming back to Indiana, but a time on that, I have no idea."
Jordan said he has no other visits planned at the moment and is taking time to prepare for his upcoming high school season. The No. 95 prospect in the 2015 class according to the 247Composite, Jordan has taken additional recent visits to Illinois, Northwestern and Wisconsin.
For now though, after one visit to Indiana, Jordan has come away impressed.
"I had a great time. Me and my dad really enjoyed ourselves and talking to coach Crean was amazing," Jordan said. "It's a great school. I'm hoping to get back down there."
Filed to: Aaron Jordan