Quentin Goodin is a priority for Indiana in 2016 class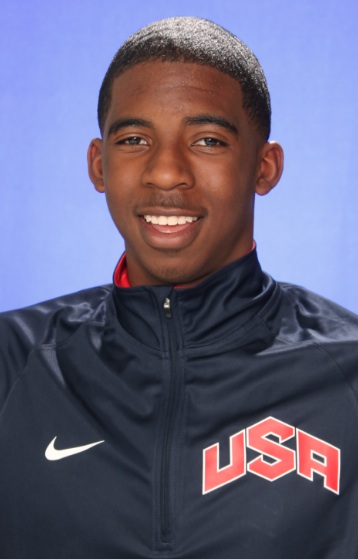 Class of 2016 Campbellsville (Ky.) point guard Quentin Goodin visited Indiana on Friday and came away with the feeling that he's a priority for the coaching staff.
The Hoosiers offered Goodin a scholarship in early May and the rising sophomore showed he's serious about IU's interest by making the three hour trip to Bloomington, his second visit there this year.
Goodin was also in town for IU's 83-55 rout of Purdue on February 16.
"What I mainly liked about the visit was that Coach (Tom) Crean was telling me he wanted me to be there. And that he'd take me today, tomorrow, next week or any day," Goodin told Inside the Hall. "That made me feel really good. He also told me that I was a priority."
Goodin has five scholarship offers — Indiana, Northern Kentucky, Oklahoma State, Tennessee and Western Kentucky — but said that right now it's not real close in terms of which school is making the hardest push in his recruitment.
"Indiana is the school that is recruiting me the hardest," he said. "The visit showed me that they really want me. They weren't just saying it to say it, they actually mean what they said."
One of the major selling points at Indiana is the player development and Thursday's NBA Draft was further validation of the staff's success in that regard as Victor Oladipo went No. 2 overall to the Orlando Magic.
"It's a big part because that's the difference between a good player and a great player," Goodin said of IU's player development. "I know with Coach Crean, for example, he's going to make me better. From watching Victor Oladipo from high school until now where he is, there's been a big improvement. So I know what he could do for me defensively and offensively."
Beyond basketball, Goodin said he's come away with a strong feeling that all of the Indiana coaches care for the players in the program off the court, which he believes is important.
"They showed me they really care about you. Not just for basketball, but for academics," he said. "They want you to be real successful in life. That just really meant a lot because there are some other coaches that don't really do that."
As one of the top young point guards in the country, Goodin was on the training camp roster for USA Basketball's 16U national team, but won't turn 16 until early September. As a freshman at Taylor County High School, he averaged 16.1 points per game, but believes that his primary strength is as a facilitator.
"I think my strength is getting my team involved," he said. "I can also score, but I'd rather get my team involved. Passing is one of my main strengths."
In addition to his five early scholarship offers, Goodin is also hearing from Alabama, Cincinnati, Louisville, Kentucky, UAB, West Virginia and Xavier. With his recruitment still in its early stages, the 6-foot-2, 175 pound guard is trying to enjoy himself and isn't thinking about an early decision at this point.
"I'm kind of just taking it all in," Goodin said. "And enjoying it while I have it."
Filed to: Quentin Goodin