2013-2014 Player Profile: Noah Vonleh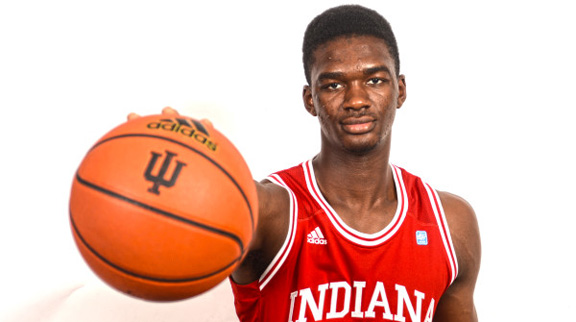 With the start of college basketball season on the horizon, we'll be taking a long look at the conference at large as well as Indiana's roster over the next month. Today, we look at freshman Noah Vonleh.
For the third straight year, Indiana welcomes a McDonald's All-American to campus. Cody Zeller started the parade and was followed by close friend and AAU teammate Yogi Ferrell.
This year, the Hoosier staff dipped into the northeast and landed a consensus top 15 talent in Noah Vonleh from the New Hampton School in New Hampshire.
The 6-foot-10, 240 pound forward with a 7-foot-4 wingspan was originally a member of the 2014 recruiting class, but opted to reclassify and his accelerated pursuit ended with a verbal commitment on his official visit last November.
Vonleh, who just turned 18 in late August, is the youngest player on Indiana's roster but has limitless upside. Physically, Vonleh, who already appeared ready to play in the Big Ten as a high schooler, has undergone a transformation since arriving on campus. He's put on more than 20 pounds of muscle, evidence that he's really taken to Indiana's strength and conditioning program led by Je'Ney Jackson.
"I wasn't used to that (the weight lifting) at prep school, so that was a big adjustment," Vonleh said in June. "I put on a lot of weight and am getting stronger. I just like to be in the gym all the time, getting better, getting my shot better because I'm going to be playing against a lot of guys that are a lot older than me next year."
In a front court rotation that was depleted of experience following the departures of Cody Zeller and Christian Watford, Vonleh appears poised to establish himself as Indiana's best rebounder and interior scoring option from day one. But beyond the prowess on the block, he can also step out, handle the ball and knock down midrange shots. His ability to pass from the high post is also present in his game.
"He's incredibly unselfish," Tom Crean said of Vonleh after signing day last fall. "They can give him the ball at the top of the key in a 1-4, 1-2-2 type situation, and he just delivers the ball. He's like Cody [Zeller] in the sense that he doesn't look for his offense enough. He's another one of those young guys that we've got here and we think is untapped, in the sense that he has no idea how good he can be."
In a program that will need to continue the "365 day" work ethic following key roster losses last season, Vonleh looks like a perfect candidate to spearhead that movement on a young roster.
Bottom line: Vonleh was incredibly well coached in AAU and at prep school and the competitive schedule he faced should have him well prepared to become an immediate force in the Big Ten. He has the tools to become the best rebounder that the Hoosiers have had in the Crean era and his length and physical tools should help him develop into an elite defender. Like Zeller at times, Vonleh may need to be pushed to become more assertive, but there's no doubt he has the talent to be an all-league player and a pro for a long time.
Quotable: "Noah, again, the humbleness, the desire to get better, the desire to learn. When you use the term `sponge', which I don't use the term lightly in terms of learning, when I call him a `sponge' he really is. He has high goals, he's very confident, yet there's not an entitlement, there's not an enablement. He's not wired to think it's supposed to happen overnight. He knows it's a process, and we're fortunate to have him." – Crean on Vonleh.
Previously: Devin Davis, Stanford Robinson, Troy Williams, Collin Hartman
(Photo credit: IU Athletics)
Filed to: 2013-2014 season preview, Noah Vonleh