2013-2014 Player Profile: Luke Fischer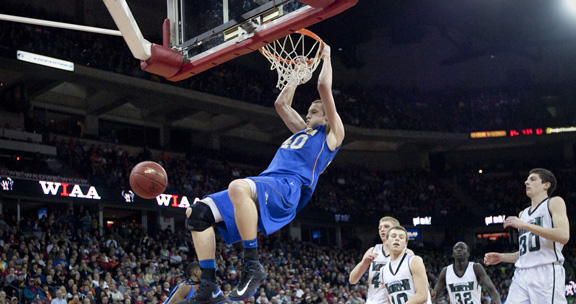 With the start of college basketball season on the horizon, we'll be taking a long look at the conference at large as well as Indiana's roster over the next month. Today, we look at freshman Luke Fischer.
Before he has even stepped onto the court for a game as an Indiana Hoosier, Indiana coach Tom Crean has referred to freshman center Luke Fischer as a "year-round winner."
Crean's bold critique is justified, though: In Fischer's final two years of high school basketball at Germantown (Wis.), he led his team to a 56-0 combined record and back-to-back state titles.
Now, the 6-foot-11, 230-pound Fischer is on the defending Big Ten champion squad. And though there certainly is no expectation he will come in and immediately help IU to an undefeated season, his winning experience will certainly help, according to Crean.
"He's played in a lot of big games at the high school level," Crean said at his "State of the Hoosier Nation" address on Oct. 2. "He knows what it takes. He knows how to score. He's not afraid. He comes in there and battles."
Fischer, indeed, has battled since he arrived at IU. Cody Zeller's departure left a void for significant playing time at center. And over the offseason, Fischer has already proven himself to be a valuable asset to the team.
As Crean said, he's not afraid. Fischer has become a rim presence and can both score and rebound with efficiency. He has a high basketball IQ, too, much like his predecessor at IU.
By no means is he flashy, but Fischer's strength and experience gives him an immediate upside.
"He's got toughness," Crean said. "And we're gonna need him. We're gonna need him."
In the early weeks of 2013 practice, though, the Hoosiers will be without Fischer. During a scrimmage the week of Sept. 26, Fischer went for a rebound but instead got injured, suffering a sprained left shoulder.
This past Friday at Hoosier Hysteria, Crean said Fischer was still "a few weeks" from returning. Though it's not ideal that Fischer will miss most of preseason practice, he's already learning.
He gained 15 pounds since he arrived on campus, filling some of his 6-11 frame. He's improved his physicality, too, he says.
And when he gets back to full health, Fischer will bring something the Hoosiers need on the court.
"You've just got to be aware of everything that's going on," Fischer said at Indiana's Media Day. "I think I'm just being more physical in the paint area, knowing that I'm going to be pushed around and have to push back. Just have to be able to lower my shoulder and protect the rim more."
Bottom line: Fischer's preseason injury might slow his start to the season, but he brings the skillset at center to potentially get significant playing time from day one. Zeller's departure leaves Indiana without a starting center, and Fischer could be in position fill that spot once he gets to full health.
Quotable: "There's not going to be any, 'well, let's compare him to Cody Zeller' type of things. There's certain things that Cody did that we want him to do. There's also some things that he does that took a while for Cody to get. So we're not going to do any of the comparison part. We're just going to really let Luke Fischer be the best Luke Fischer that he can be as a freshman." — Crean at "State of the Hoosier Nation"
Previously: Noah Vonleh, Devin Davis, Stanford Robinson, Troy Williams, Collin Hartman
(Photo credit: Matthew Newman of Germantownnow.com)
Filed to: 2013-2014 season preview, Luke Fischer