Stanford Robinson out indefinitely with knee injury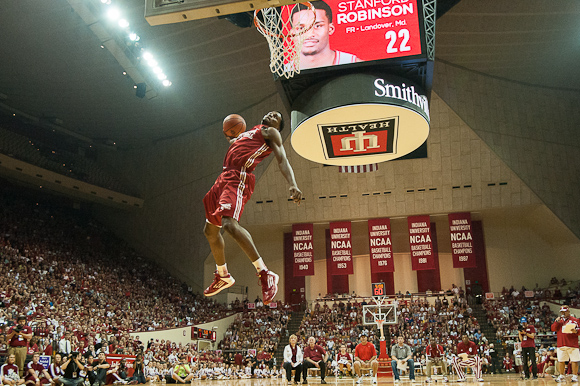 Update: Jeff Goodman of ESPN.com reports that Robinson is expected to miss 7 to 10 days.
Crean also said that Luke Fischer (shoulder) is still a couple week away while Stan Robinson (knee) likely to be out 7-10 days.

— Jeff Goodman (@GoodmanESPN) October 7, 2013
After sustaining a right knee injury in the final seconds of Friday night's Hoosier Hysteria scrimmage, Stanford Robinson is "out indefinitely."
Indiana sent out a release late Saturday night updating Robinson's situation, saying that he will begin treatment and daily observation.
"Hopefully everything will be good there," Indiana coach Tom Crean said after Hoosier Hysteria. "We don't need any more guys missing time that are gonna play."
Robinson went down after a collision in the paint with 4.6 seconds remaining in the scrimmage. He limped off the court with help from IU team doctor Steve Ahlfeld.
Below is the entire press release:
Bloomington, Indiana – Freshman Stanford Robinson, who left Friday night's Hoosier Hysteria scrimmage after injuring his right knee, is beginning treatment, daily evaluation and will be out indefinitely. He participated in team activities with the Varsity Club prior to this afternoon's football game against Penn State and was dressed at practice.
"Stanford is a very unique, unorthodox type of player", said Coach Tom Crean at his State of the Hoosiers speech Wednesday evening. "He can do a lot of different things. He can handle the ball. He is as good of a downhill player as we have right now outside of Yogi when it comes to playing the game and going straight line straight downhill."
The Hoosiers open the exhibition season in three weeks against Southern Indiana, October 26 at 7 p.m. in Assembly Hall.
Filed to: Stanford Robinson