2013-2014 Player Profile: Evan Gordon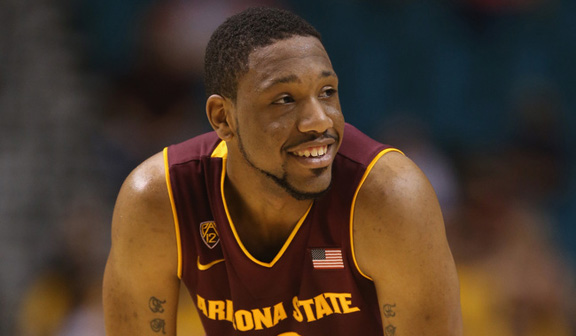 With the start of college basketball season on the horizon, we'll be taking a long look at the conference at large as well as Indiana's roster over the next month. Today, we look at graduate senior Evan Gordon.
The decision of Remy Abell to transfer last spring opened a spot on Indiana's roster and rather than letting it sit empty or award the scholarship to a walk-on, the Hoosiers quickly moved into the mix and landed Evan Gordon, a graduate transfer from Arizona State.
The younger brother of former Indiana star Eric Gordon and older brother of class of 2016 target Eron Gordon, Evan arrives at the third school of his collegiate career. He explained both of his decisions to transfer (Liberty to Arizona State and Arizona State to Indiana) to reporters at media day last month.
"The reason I left Liberty was to look for a bigger program and I found that in Arizona State," Gordon said. "I was hoping it was here (when he transferred from Liberty). And to leave there, it was just being away from home five or six years. This is my sixth year away from home, but now that I'm back here, it adds a different element to it."
A double digit scorer in each of his three seasons of experience, Gordon brings a solid combination of shooting, ball handling and defense to the Hoosiers. He's been in the mid 30's percentage wise from behind the 3-point line throughout his career, but the strong suit of his offensive game might be in the midrange.
With only one true scholarship point guard on the roster, Gordon also figures to get a chance to handle the ball whenever Yogi Ferrell needs a break. Standing at just 6-foot, a backcourt of Ferrell and Gordon could run into some of the same problems the Hoosiers ran into last year with Ferrell and Jordan Hulls, but it's a combination that IU will have to live with at times.
Beyond the statistical impact Gordon could bring, perhaps the most important part of what he brings is valuable experience and leadership to a roster that is stacked with underclassmen. With three seasons of experience plus a season in which he sat out at Arizona State, Gordon will be a player that teammates look to for guidance, a role he is ready to embrace.
"A lot of the guys look up to me," Gordon said at media day. "They look for advice. I think with me having been through it, I can definitely help out in different areas when they need help and just being able to push (them)."
Bottom Line: A fundamentally sound guard who understands the game, Gordon is a valuable addition and an upgrade over what Indiana lost when Abell opted to transfer to Xavier. It was a bit of a perfect storm that the Hoosiers were able to land him as he only takes a scholarship for one season and brings leadership to a program that lost several leaders like Hulls, Christian Watford, Cody Zeller and Victor Oladipo.
Quotable: "He's got to come in here and he's got to see his game go to another level. He's got to see his game rise on both sides of the court — offensively and defensively — and see that leadership rise. He's got to get out of whatever comfort zone has been acceptable for him — because he works hard, now — and step above and beyond that. He's got to bring a pitbull, junkyard dog mentality daily. He's got to take people with him. And that's one of the biggest things that will show: is he going to have that kind of year? Here's a guy that's a great young man. He works hard, comes from a great family, spends a lot of time at the game. But he can do more." – Crean on Gordon at his IU auditorium speech.
Previously: Austin Etherington, Jeremy Hollowell, Hanner Mosquera-Perea, Peter Jurkin, Yogi Ferrell, Luke Fischer, Noah Vonleh, Devin Davis, Stanford Robinson, Troy Williams, Collin Hartman
Filed to: 2013-2014 season preview, Evan Gordon