2013-2014 Player Profile: Austin Etherington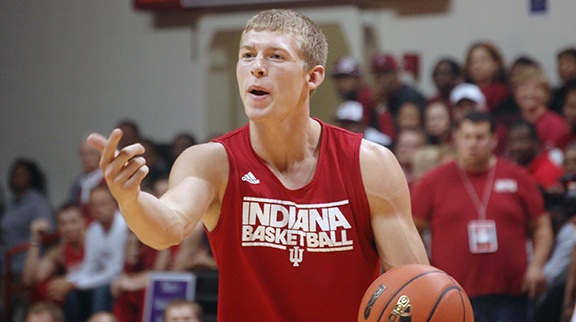 With the start of college basketball season on the horizon, we'll be taking a long look at the conference at large as well as Indiana's roster over the next month. Today, we look at redshirt sophomore Austin Etherington.
In a season in which Austin Etherington appeared to be finding his way into Indiana's rotation, it came to a screeching halt all too early.
With 2:28 remaining in the Hoosiers' first half of a game against Central Connecticut State on Dec. 8 last season, Etherington collided knees with Terrell Allen and collapsed as Allen went for a layup. Etherington, who was carted off the court, was soon diagnosed with a broken left kneecap. His season was over.
As Etherington watched from the bench, his teammates went on to win IU's first outright Big Ten title since 1993. Seven months later, as he and the Hoosiers are preparing for the 2013-2014 season, Etherington is the only remaining member from IU's 2011 recruiting class. He's now a redshirt sophomore.
And as he is back at 100 percent, Etherington again has a chance to find playing time, especially if he can prove himself as a reliable 3-point shooting threat. It's been well-documented that Indiana lost 77 percent of its 3-point shooting production from last season, and Etherington is one of only four returning players to have made a 3-pointer from that team.
However, in his two years at IU, he is a combined 3-for-11 from behind the arc. Should he find consistency in that jump shot, Indiana coach Tom Crean said Etherington then will be able to contribute on this year's squad. The addition of 6-foot-7 freshman Collin Hartman though, who is known for his jump shot, doesn't make things easier for him.
"What we need Austin to do is make jump shots," Crean said at his "State of the Hoosier Nation" speech on Oct. 2. "We need Austin to hold his ground defensively. We need Austin to get out and get out on that break and be a guy that can space the court. And we need Austin to play with tremendous toughness.
"And if Austin can do those kind of things for us, he's going to have a chance to contribute on this team. He's got a lot of people nipping at his heels."
Bottom line: Despite playing only 124 minutes in his previous two seasons combined, Etherington has a chance to play a more important role on the Hoosiers' roster this season as a redshirt sophomore. He will need to prove he can fill some of the void left by the loss in 3-point production, but if he does that, he could solidify a spot in Indiana's rotation.
Quotable: "Being out for six, actually eight months, it's weird having to watch from the side. You know, it's something where you always wish you're on the court, but being back on the court, it's good to be back. Vic, Cody, Christian, Jordan and Derek, as well, all those guys are all great players. Just watching them play and learning the pace of the game and how they handle situations, you learn a lot from the side." — Etherington at Indiana Media Day
Previously: Jeremy Hollowell, Hanner Mosquera-Perea, Peter Jurkin, Yogi Ferrell, Luke Fischer, Noah Vonleh, Devin Davis, Stanford Robinson, Troy Williams, Collin Hartman
Filed to: 2013-2014 season preview, Austin Etherington