Tyus Battle enjoys competition at USA Basketball Camp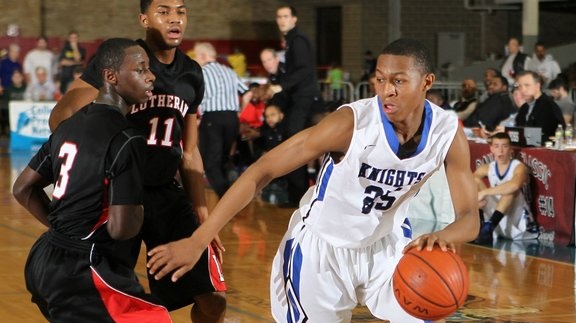 One of Indiana's top recruiting priorities in the class of 2016, Gill St. Bernard's School (N.J.) guard Tyus Battle, was among the elite players who participated at the USA Basketball developmental national team mini-camp in Colorado Springs, Colorado on Oct. 5-6.
The 6-foot-5, 170 pound prospect told Inside the Hall it was a beneficial experience.
"It's just competing a lot and playing against the best players in the United States," Battle told Inside the Hall. "We go after it every time we step on the floor."
The camp, which had a mixture of class of 2014, 2015 and 2016 players, provided Battle the opportunity to measure himself against older players, a challenge he always looks forward to taking on.
"I really like going against the older guys, the class of 2014 kids. They've got the experience and it's good to go at them," he said. "You can pick up their patience for the game, they take their time going around screens, defensively they go hard throughout the whole game. You can just pick up a lot from them."
It's been a busy fall for Battle already as he's taken unofficial visits to Indiana and Ohio State, two schools that have both extended scholarship offers.
The trip to Bloomington in late August was the second for the No. 11 prospect in the 247Composite, who also took in Indiana's win over Michigan last February at Assembly Hall.
"I really liked the trip. I got to meet the coaches and spend time with them," Battle said. "Went to the football game. They're all great guys and I love the unity there."
Over the summer, Battle said that Indiana was one of the schools recruiting him the hardest, which he says is still the case. With his recruitment still at an early stage, two things stand out about the Hoosiers.
"Just the atmosphere and the way they develop the players," he said.
As a freshman at Gill St. Bernard's, Battle averaged 11.6 points per game playing alongside Seton Hall signee Jaren Sina in the backcourt. With Sina's departure, along with Chris Jenkins (Hofstra) and Austin Colbert (Illinois), he'll shoulder a bigger load as a sophomore.
"My leadership and just being aggressive the entire game," Battle said when asked for the keys to stepping up in his second high school season.
Filed to: Tyus Battle