2013-2014 Player Profile: Hanner Mosquera-Perea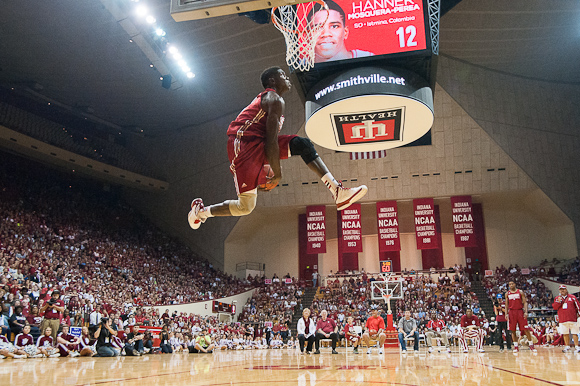 With the start of college basketball season on the horizon, we'll be taking a long look at the conference at large as well as Indiana's roster over the next month. Today, we look at sophomore Hanner Mosquera-Perea.
Hanner Mosquera-Perea entered his freshman campaign with jump-out-the-gym athleticism and a whole heck of a lot of promise.
He was part of Indiana's initial "starting eight" at this time last year, and seemed well on pace to spell Cody Zeller and Christian Watford in the frontcourt as a reliable first big off the bench. But as the season hit, things changed. First, fresh off a partial summer he spent in a walking boot, the NCAA spanked Mosquera-Perea and fellow freshman Peter Jurkin with a dubious nine-game suspension. He lost valuable non-conference playing time, time he could have spent building confidence against inferior opponents.
By the time Mosquera-Perea was cleared to play on Dec. 15 against Butler, it seemed he may still indeed be a contributor. He scored a bucket in three minutes of action against the Bulldogs. Four days later against Mount St. Mary's, the Colombia native stuffed the statsheet with 10 boards, four points and two blocks in just 14 minutes of action.
But that would be his best performance of the season and reality began to set in. Mosquera-Perea, for all his length and athleticism, didn't fully grasp the subtleties of five-on-five basketball at the Division I level. He was too raw to be trusted with significant minutes. He attempted just six shots during the Big Ten season and NCAA tournament and snatched just 13 boards in that same time period.
So what does the 2013-2014 season hold for him?
Well, the minutes are there to be had with the departures of Cody Zeller and Christian Watford, along with Luke Fisher's shoulder injury. But whether he's going to capitalize? It's a wait-and-see game.
Mosquera-Perea impressed in the dunk contest at Hoosier Hysteria, had a decent scrimmage and appears to have put in some solid work this summer. And as we all know, Tom Crean and his staff have proven to be effective at taking talent and growing it if the player is willing to put in the work.
On paper, there's no reason to believe Mosquera-Perea won't be an improved sophomore who grasps the college game flow better than he did a season ago. If he wants to get in the staff's good graces for playing time, a big jump in the defensive department could be what suits him best. Crean spoke of the team's woeful defensive communication with a term like "crisis" last week during his address to students at the IU auditorium. If Mosquera-Perea can be a rim-protector and figure out how to rotate and recover properly — and be able to provide modest offense, a tip-in here, a score around the rim there — a solid spot in the rotation is calling his name.
Bottom Line: Mosquera-Perea's potential has yet to be reached, and that's what makes for an interesting watch as the 2013-2014 season begins in a few weeks. If he proves to take a big enough step in year two to justify strong rotation minutes, a frontcourt trio of Noah Vonleh — who's poised to play the five at times — Fischer and Mosquera-Perea should keep the Hoosiers competitive during the grind of the Big Ten season.
Quotable: "It becomes a situation, are you really going to try to dive in and win everything that you do? That's what Jeremy and Hanner have to develop because I think the skills will come. Hanner is so much ahead of where he was a year ago. Jeremy loves the gym. But now it comes down to, I want to hear about what those guys are winning. What sprints are they winning? What competitions are they winning? What shooting drills are they winning? Because that's what we need. We've won 56 games the last two years because we've had a highly competitive team that put winning first. We've lost so much of that. That stuff's wide open." — Tom Crean
Previously: Peter Jurkin, Yogi Ferrell, Luke Fischer, Noah Vonleh, Devin Davis, Stanford Robinson, Troy Williams, Collin Hartman
Filed to: 2013-2014 season preview, Hanner Mosquera-Perea