That's A Wrap: Defense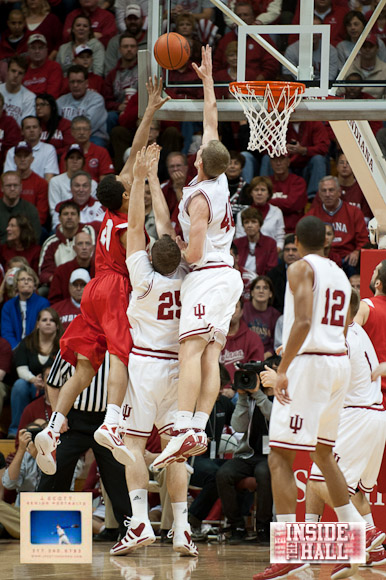 Welcome to "That's A Wrap," our recap of the 2011-2012 Indiana Hoosiers. Today: Indiana's defense.
Final stats (36 games): 66.4 points allowed per game, 46.2 FG %, 48.1 eFG %, 34.9 3P FG% , 95.3 adjusted efficiency.
Just about any way you slice Indiana's defense this past season compared to the 2010-2011 campaign, one things is clear: It improved.
The Hoosiers' adjusted defensive efficiency got better (99.1 to 95.3); they held opponents to a lower shooting percentage (49.6 to 48.1 eFG%); their defense blocked a higher percentage of shots (7.9 to 8.5%) and stole the ball (9.6 to 9.7%) at a higher rate. But above all, Indiana improved on the defensive side of the ball because it finally figured out how to defend opponents without sending them to the line at an alarming rate.
The Hoosiers finished 333rd in the country in 2010-11 in defensive free throw rate (50.2) with the likes of Bobby Capobianco (10.7), Tom Pritchard (6.5), Derek Elston (5.7), Will Sheehey (5.5) and Daniel Moore (5.0) all committing five fouls or more per 40 minutes. This season, only Pritchard (6.8) notched that distinction. It helped that the team's defensive anchor, Cody Zeller, had a mature enough game as a freshman not to fall victim to such a distinction as well (3.8 fouls per 40 minutes).
Indiana also just showed more maturity, communication and cohesion. Gone were the days of losing an unhealthy amount of 3-points shooters; the Hoosiers' D became a team unit this season that held each other accountable and understood the concepts of help defense. Victor Oladipo continued to show elite defensive skills and often got the assignment against a team's top perimeter player. Sheehey fouled less per 40 minutes (4.1) and showed signs that he, too, is developing into a strong perimeter defender. And Christian Watford, who's effort and decision-making was often called into question in 2010-11 and early in the 2011-12 campaign, showed more commitment as the season went on. This was reflected by the way Tom Crean used him. He showed more confidence in the Alabama native by sticking him on Trey Burke and Tim Frazier.
Still, if there was one side of the ball that held Indiana back from an elite level this season, it was the defense. While it started out well in the non-conference, Big Ten season brought a little bit of a different story. Indiana's defense was only seventh-best on a per possession basis in the conference, allowing 1.06 points per trip. It allowed 82 points to Penn State in a Jan. 8 win, the most the Nittany Lions would score all Big Ten season. The Hawkeyes also posted 89 points in a game they lost to Indiana on Jan. 29. This was also the most points Iowa scored all season in Big Ten play.
Bottom Line: The Hoosiers' adjusted defensive efficiency of 95.3 ranked them 64th in the country, while its adjusted offensive efficiency of 120.6 ranked them fourth. With Yogi Ferrell and Jeremy Hollowell joining the team next season and Zeller and Watford back in the fold, Indiana's offense will likely continue to be one of the most efficient in the country. But if they can also take the leap and become an elite defensive squad in 2012-13, it could be the determining factor in whether or not the Hoosiers will make the trip to the Final Four in Atlanta next season.
Previously: Christian Watford, Derek Elston, Jordan Hulls, Matt Roth, Tom Pritchard, Verdell Jones, Victor Oladipo, Will Sheehey, Cody Zeller, #benchmob, Remy Abell, Offense
Filed to: Christian Watford, Cody Zeller, Victor Oladipo, Will Sheehey