That's A Wrap: Jordan Hulls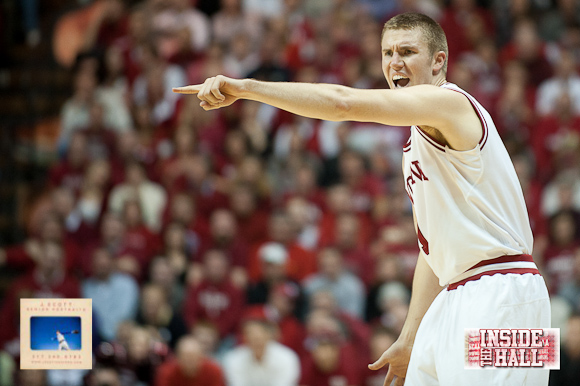 Welcome to "That's A Wrap," our player-by-player recap of the 2011-2012 Indiana Hoosiers. Today: Jordan Hulls.
Final stats (36 games): 11.5 ppg, 3.2 apg, 50.4% FG, 89.9% FT in 30.1 minutes per game.
As the Hoosiers completed their improbable comeback against VCU in the third round of the NCAA tournament last month, an unlikely name was missing from the Indiana lineup.
Jordan Hulls, the Hoosiers' junior point guard and unquestioned leader, had been forced to the bench because of his five turnovers against VCU's trapping defense. The first couple of mistakes seemed to get to his head, and they compounded from there. Tom Crean was forced to finish the game with freshman Remy Abell on the floor.
Hulls' frequent inability to let the last play go — and at times his defense — are the only things keeping him from becoming one of the nation's elite point guards.
Hulls improved in nearly every statistical category this season, increasing his scoring average from 11.0 points per game to 11.5, and his 3-point percentage from 41.4 to 49.3. He's made more big shots in his career than any other current Indiana player, and he played a major role in the Hoosiers' three wins over top five teams.
In order to take the next step, though, Hulls must get better in the two areas that have always haunted him.
He was asked various times this season about learning to put the last play behind him and move forward. Each time, he said he thought he was improving in that area, but knew he still had a long way to go. Hulls is a perfectionist, and it's not easy for him to accept failure on a particular possession.
"Sometimes my head gets the best of me, and I get so mad at myself because I'm not doing the right things," Hulls said late in the season.
While he seems to have made modest improvements in that area, the VCU game was a perfect example of how detrimental Hulls' habit can be to his team. He had so much trouble with the Rams' defense that Crean simply couldn't afford to have him in the game late.
Hulls' defense can also be suspect at times. If Hulls is ever caught in a 1-on-1 situation — no matter who the other player is — the opposing team's game plan is to attack Hulls. He struggles to get through screens, and he isn't quick enough to guard most Big Ten point guards.
Indiana's team defense will certainly need to get better next season, but it all starts with the point guard.
Bottom line: His weaknesses aside, Hulls was one of the Hoosiers' most important players this season. He has the guts to take a big shot under any circumstances, and he's a very good leader when he's not beating himself up. He's improved dramatically on the offensive end since his freshman year, adding several moves to help him gain distance from bigger defenders. He can make almost any shot on the floor, and he's gained more range with each passing year.
While he might get pushed to the two-guard spot with Yogi Ferrell coming in next year, Hulls will continue to be a vital piece to this Indiana team.
Previously: Matt Roth, Tom Pritchard, Verdell Jones
Filed to: Jordan Hulls