That's A Wrap: Verdell Jones III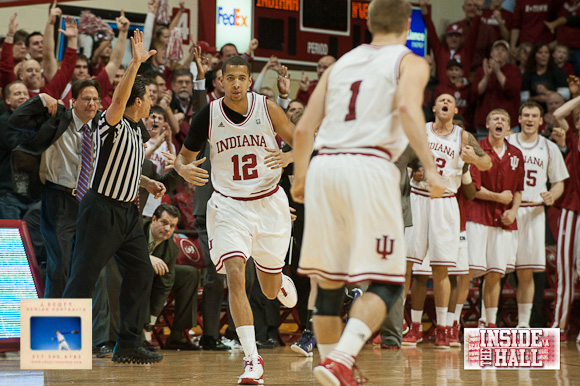 Welcome to "That's A Wrap," our player-by-player recap of the 2011-2012 Indiana Hoosiers. Today: Verdell Jones. Editor's note: Read our senior day feature on Jones here.
Final stats (30 games): 7.5 ppg, 3.2 apg, 2.9 rpg, 41.9% FG, 75.5% FT in 24.5 minutes per game.
No player in recent IU basketball history has been debated, discussed and dissected quite like Verdell Jones.
Coming into his final season in Bloomington, there was an argument to be made that the Hoosiers would be better off shifting Jones into a lesser role within the offense. And that's exactly what happened.
During his first three seasons, Jones used over a quarter of the IU's possessions and played at least 61.4% or more of the available minutes at his position. As a senior, his percentage of possessions used dipped to 21.6 and his percentage of minutes played fell to 51.0.
The diminished offensive role was beneficial to both Jones, who was able to shift into more of a playmaker rather than a scorer, and the Hoosiers, who re-distributed his shots to more efficient options.
While his efficiency numbers might not bear it out in every category, the Champaign, Il. native played his best basketball in his final season. His defense, particularly on the ball, improved immensely. He made clutch shots late in wins at Assembly Hall over Michigan and Northwestern. And he delivered a pass to Christian Watford to set up the shot that beat No. 1 Kentucky.
Rather than listening to message board debates on whether he should remain in the starting lineup or the boos that rang down on him in IU's home loss to Minnesota, Jones used the doubt as motivation to continue improving.
"I've been doubted and hated on ever since I was a little kid," he said late in the season after an IU win over Northwestern. "Things like that have motivated me to go beyond what people expect.
"People said I was too skinny to play big Division I basketball. Proved them wrong. People said I couldn't go a game without a turnover. That's two games I've proved them wrong. Everything that I hear, the boos, all that, it motivates me to levels that you don't even understand."
It was that drive Jones spoke of that made him such an integral piece in the Hoosiers' turnaround this season. He realized that for IU to be at its best, his role had to evolve into a leader and distributor. That epiphany by Jones ultimately made Indiana a better basketball team.
The unfortunate finality of Jones' career is that he was unable to reap the full rewards of this revival season. In a freak play during the first half of the Hoosiers' first round win over Penn State in the Big Ten Tournament, he tore his left ACL. He was forced to watch from a sweatsuit on the bench the rest of the way.
It was a heartbreaking end for a player who deserved to play in the NCAA Tournament as much as anyone. Jones still found a way to contribute in IU's two tournament wins by doing his best to lead from the bench, but there's no doubt the Hoosiers missed his presence in the season's final four games.
Bottom line: Jones will be remembered by teammates, coaches and fans as an integral piece in the turnaround of Indiana basketball. He opted for the Hoosiers when the program had hit rock bottom and like his four classmates that will depart this spring, stuck it out during the most trying of times in Bloomington. He leaves as a career 1,000-point scorer and a starter for most of the season on a team that won 27 games and reached the Sweet 16.
Filed to: Verdell Jones