Jones finally feeling rewards of his journey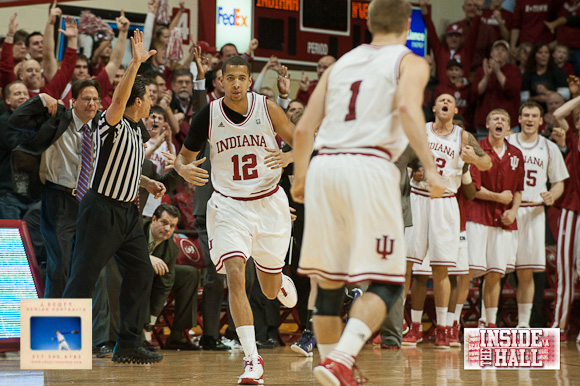 No 1,000-point scorer in Indiana University basketball history has been through the highs and lows that Verdell Jones has experienced during his four seasons in Bloomington.
From a 6-25 freshman season to a senior campaign in which the Hoosiers own wins over a trio of top five teams and are headed to the NCAA Tournament, Jones has been at the forefront of the rebuilding process for one of the country's most storied programs.
It's that unique experience and journey to bring Indiana back that will ultimately place Jones and his fellow seniors into a group that will be remembered for starting the rebuild of Indiana basketball.
A visit that nearly didn't happen
In the spring of 2008, Jones, who played high school basketball at Central High School in Champaign, Ill., was one of the top unsigned seniors still available to sign a National Letter of Intent. Scholarship offers had come from schools like Kentucky, Minnesota and Tennessee. Jones was beginning to narrow his focus and ultimately decide where to spend the next four years of his life.
He'd been recruited some by Tom Crean and Tim Buckley when both were at Marquette. Jones even took an unofficial visit to the Marquette campus, but said he didn't like it very much.
When Crean departed for Indiana in early April, the staff scrambled to put together a class to fill the roster for the upcoming season and Buckley put in a call to Jones' father to gauge his interest in an unofficial visit to Bloomington.
"I was pretty much against it at first," Jones said. "I was really set on the schools I wanted to choose from."
But after some convincing from his dad, Jones kept an open mind and hit the road for Bloomington on the weekend of the Little 500.
"I fell in love with it. The tradition and all of that was amazing," he said. "When I committed, a lot of [Kelvin] Sampson's players were still here, so I felt we had a good core of players. But after I signed my Letter of Intent, players started to quit and were leaving, but I wanted to keep my commitment because I saw the passion that Coach Crean had."
A rough adjustment
Top 150 recruits rarely sign with schools in the shape Indiana was in when Jones penned his Letter of Intent.
The Hoosier program was in shambles in the wake of NCAA violations and as the dust settled on IU's roster for Crean's first season, it became clear that the outlook on the 2008-2009 season was bleak.
Losing was not something Jones or his teammates, many of whom had successful AAU and high school careers, would deal with easily. As a senior at Champaign Central, Jones led the Maroons to a third-place finish in the Illinois State Tournament.
"It [losing] was something that was totally different. I won my whole life. To do the polar opposite was hard," Jones recalls. "Some days it was hard to get motivated. Losing, it kills you. It takes away your passion and just drains you a little bit. Mentally and physically."
His first season at Indiana ended with a 1-17 record in conference play. Jones averaged 11.0 points per game.
While it may be hard to imagine taking many positives from a season where the Hoosiers barely avoided going winless in Big Ten play, Jones says he managed to do just that.
"It was definitely something that, looking back on, I think helped shape me as a man today."
A physical transformation
Jones arrived in Bloomington listed at 160 pounds. That may have been generous.
He remembers not being able to bench 185 pounds when he began lifting weights on campus. He struggled to add and keep on weight.
It would be a lengthy process, but ultimately, Jones arrived at 195 pounds prior to this season. Adding weight each season helped him to better compete and adjust to the rigors of playing in one of the country's most physical leagues.
"It's hard to gain weight and keep it on because of all of the running and conditioning you do," he said. "But they [Jeff Watkinson and Je'Nay Jackson] did a great job with me. My body feels great.
"I went from not being able to bench 185 to benching 185 fifteen times now."
An evolving role
Many wondered prior to the season how Jones would fit on an Indiana team expected to compete for its first postseason berth in the Crean era.
Coming off of a 12-20 season in Crean's third year, pressure was beginning to mount to win now.
But Jones remained in the starting lineup as the Hoosiers raced to a 12-0 start and their first appearance in the top 25 since the 2007-2008 season.
Through 28 games, he's taken 100 less field goal attempts than he did a year ago, but speaks like a seasoned veteran that understands how and why his role has changed.
"The first few years I had to do a lot of the scoring because we didn't have the talent that we have now," Jones said. "Other players have developed, we have Cody [Zeller] who can score inside. Christian [Watford] and Victor [Oladipo], guys like that have really come along.
"I don't need to take 10 or 15 shots a night. I can do more things like get guys open and get them going first. That's my role this year. Just being a senior leader and get other guys going before I get myself going."
The other end of the spectrum
One photo and moment that will be remembered for years to come in this turnaround season for the Hoosiers is Jones and his teammates standing on the scorer's table after knocking off No. 1 Kentucky, 73-72, back on Dec. 10.
It was a scene unimaginable a few years earlier when IU was dropping home games to Lipscomb and Northeastern.
After what he'd endured over his first three seasons in Bloomington, it was fitting that Jones delivered the crafty dump-off pass to Watford that finished off the nation's No. 1 team.
"It was a great feeling. We've busted our butts these past three years. I actually believe there's a law in the universe of sowing and reaping," he said. "It was a rewarding feeling. Relief."
What lies ahead
Jones, who is majoring in sport communication broadcast, is careful not to jump ahead of the moment or even the next game as the Hoosiers prepare for their final home game.
He says he's not yet sure what he'll do after the academic year ends.
Jones missed the Hoosiers' first game against Purdue in West Lafayette, a 78-61 win that started IU's February surge, but will get a chance to play his part as the team looks to beat the Boilermakers again on Sunday evening.
It will be an emotional night for all involved given what's transpired over the last four years.
But speaking as a leader and as someone focused on the possibilities that exist for this group over the next month, Jones is clearly locked into to getting the most out of the opportunity that remains.
"I'm really just focused on finishing this season. And then going from there."
Filed to: Verdell Jones