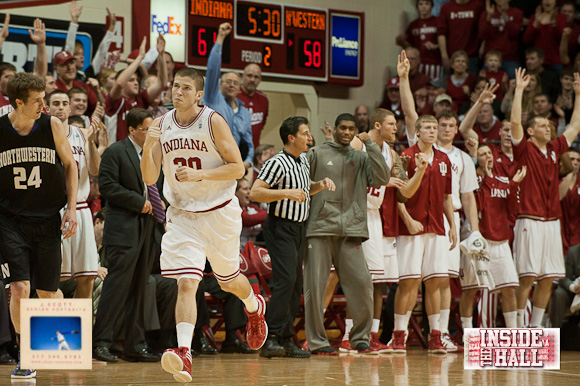 Welcome to "That's A Wrap," our player-by-player recap of the 2011-2012 Indiana Hoosiers. Today: Matt Roth.
Final stats (34 games): 4.3 ppg, 0.6 rpg, 53.7% FG, 100.0% FT in 11.8 minutes per game.
Matt Roth was recruited by the previous coaching staff to fill a role. The belief was that Roth, a sharpshooter from Washington, Illinois, could stretch defenses with his ability to knock down perimeter shots.
That plan, however, didn't come to fruition until Roth's final season in Bloomington.
As a freshman, Roth, like his classmates, was thrust into major minutes from day one. He was effective at times — a 9-of-11 performance from behind the arc against Ohio State being a prime example — but only connected on 37.3 percent of his 3-point attempts. His sophomore season was cut short after he broke the fifth metatarsal in his right foot during a practice in Puerto Rico. And he never really got into the rotation as a junior after missing the first four games with a knee injury.
Entering his senior campaign, many wondered how Roth would be utilized. The continued improvement of Victor Oladipo and Will Sheehey, coupled with the arrival of Austin Etherington and Remy Abell, created a logjam of sorts in the Indiana backcourt.
But there's always room for a shooter and Roth emerged as one of the surprises in Indiana's turnaround season. His minutes rose from his junior season as did his effectiveness. With defenses keying on Cody Zeller, Christian Watford, Jordan Hulls, Oladipo, Sheehey and others, Roth was the beneficiary of many open looks and he capitalized.
He finished as IU's top 3-point shooter at 54.5 percent and ranked second nationally. Roth filled the role he was recruited for and did it brilliantly.
While he stepped in and knocked down key shots in several IU wins this season, the performance he put together in State College in early January was easily his best. With the Hoosiers struggling to stop Penn State and in need of offense to pull out their first Big Ten road win in nearly two seasons, Roth answered the call. He knocked down five 3-pointers and hit all seven of his free throw attempts to finish with 22 points in a Hoosier win.
Bottom Line: Like Verdell Jones, Tom Pritchard, Kory Barnett and Daniel Moore, Roth came to Bloomington with the program at rock bottom and helped see through the resurgence. His role was exclusively as a shooter, but when given the right mix of players around him in his final season, he proved to be among the best from the perimeter in the country.
What can't be emphasized enough is how Roth and his classmates helped establish a foundation that will ultimately help the IU program flourish for years to come. He won't leave with gaudy statistics, but he will leave with a graduate degree and as a key figure in the revival of IU basketball.
Previously: Tom Pritchard, Verdell Jones
Filed to: Matt Roth