That's A Wrap: Cody Zeller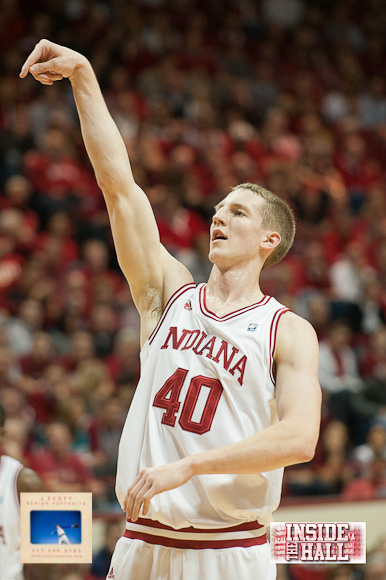 Welcome to "That's A Wrap," our player-by-player recap of the 2011-2012 Indiana Hoosiers. Today: Cody Zeller.
Final stats (36 games): 15.6 ppg, 6.6 rpg, 1.2 apg, 1.2 bpg, 1.4 spg, 62.3 FG%, 75.5% FT in 28.5 minutes per game.
It's July of 2011 and Tom Crean says this of Cody Zeller: "He's the most mentally focused kid I've ever recruited … I see a young man that has mental toughness that is not normal."
It's high praise for a kid that hasn't played a minute of Hoosier basketball, a kid already being labeled the symbol of Indiana's rebirth. But as we'd come to find time and again during Zeller's brilliant freshman campaign, Crean was right: Zeller's not normal. His calm on the court is the Middle Way — never too high, never too low, never thinking of the past or the future or playing into the emotion of the moment, just always aware of himself and his game and his center.
Early in the season, it was non-conference opponents fouling Zeller hard, and he remained unmoved as these lesser talents sought to rattle him. By Big Ten season (Feb. 9, home win), Meyers Leonard, Illinois' immature but talented big man who was in the midst of a dominant first half, was shoving Zeller to the hardwood near center court. Zeller did not immediately retaliate, complain to the refs or show much, if any, emotion. He remained patient.
And so after half, Zeller gained the upper hand and made a fool of Leonard: Illinois' center picked up fouls based purely off emotion when his team needed him on the court. And Zeller found retaliation from the first half cheap shot in his own way, a controlled and in rhythm score and foul drawn on Leonard that included a bit of an elbow to his mouth. It was him saying I'll play my game, and play it better.
But Zeller's talents are so much more than his transcendent mental approach. His skillset for a 7-footer, one honed by some tough love from father Steve and brothers Luke and Tyler, is vast, varied and fundamentally sound. Great footwork, positioning and moves in the post? Check. Enough speed to outrun an entire defense and dunk on the break? Check. Quick hands, ones that picked up nearly a steal and a half a game and good for second on the team to Victor Oladipo in steal percentage? Check. A defensive game that was low on fouls and high on lateral quickness and blocks? Check.
The Washington native faced consensus No. 1 pick Anthony Davis twice, and he gave Davis about the most he'd have to handle in Kentucky's championship season. Outside of 3-point sharpshooters Matt Roth (79.2%) and Jordan Hulls (63.0%), he had the highest eFG% on the team (62.3), which was good for 22nd in the country. His TS% (true shooting, which takes free throws into account as well) of 66.5% was ninth best in the nation. His offensive rating of 126.8 ranked him 14th. He was named the Big Ten Freshman of the Year. He has a sense of humor and faith in God.
Could Zeller be stronger? Sure. Could he have rebounded better at times? Probably. But these are minor quibbles for a player that meant so much to this program and was everything he was advertised as and more.
Bottom line: Zeller had a huge hand in bringing Indiana back to national prominence this season. He was an efficient offensive player who scored in double figure in 32 out of his 36 games and scored 20 or more on seven different occasions. He's a consensus lottery pick and would likely fall in the top 10, if not top 5, in June's NBA draft.
But he will return to Bloomington and play for the Hoosiers next season despite this fact, despite guaranteed money in the NBA, despite the allure of the one-and-done storyline after Kentucky's championship season.
Because this is Cody Zeller: not normal.
Previously: Christian Watford, Derek Elston, Jordan Hulls, Matt Roth, Tom Pritchard, Verdell Jones, Victor Oladipo, Will Sheehey
Filed to: Cody Zeller