That's A Wrap: Christian Watford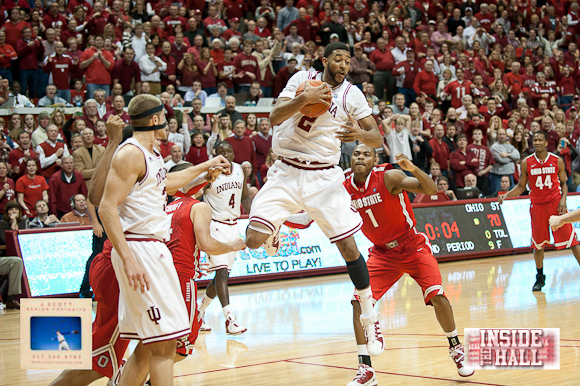 Welcome to "That's A Wrap," our player-by-player recap of the 2011-2012 Indiana Hoosiers. Today: Christian Watford.
Final stats (36 games): 12.6 ppg, 5.8 rpg, 41.6% FG, 81.5% FT in 28.4 minutes per game.
The biggest occasions brought out the best in Christian Watford during his junior campaign.
While the Birmingham native still struggled at times with consistency, he exhibited the ability to thrive in pivotal moments. Two of Watford's 20+ point games came against Kentucky. Two of the other three were against Big Ten foes Michigan and Michigan State.
The signature of those moments, of course, was Watford's shot to beat the No. 1 Wildcats on Dec. 10 in Assembly Hall.
After squandering a lead late in the game, the Hoosiers needed someone to step up and make a play. And it was Watford who delivered by knocking down a 3-pointer from the left wing to officially put IU back into the top 25 and onto the national map. It was arguably the biggest shot by a Hoosier since Keith Smart in 1987. The chaos that ensued on Branch McCracken court was proof of that.
Afterward, even Watford had a hard time describing how he felt.
"I haven't felt anything like that," he said. "It's probably the most memorable moment of my life, definitely of my career."
But beyond that game and more important than one shot, Watford matured and improved as the season moved along.
He shot close to 44 percent from behind the 3-point line and posted a defensive rebounding percentage of 18.8, the highest of his career. He continued to get to the foul line (43.1 percent free throw rate) and convert.
He also grew into a defender that Tom Crean trusted enough to put on opposing point guards late in the season. When IU had trouble containing players like Trey Burke and Lewis Jackson, it was Watford who drew the assignment of attempting to slow them down. He was, for the most part, effective in that role.
And in the NCAA Tournament games against Virginia Commonwealth and Kentucky, Watford delivered a pair of scoring runs to keep the Hoosiers close when things looked to be getting out of hand. Against the Rams, he scored eight straight to end the first half and closed a nine-point deficit to one. Against UK, he scored 15 of IU's 17 points to end the first half.
Such performances would have been unthinkable after the ups and downs of Watford's first two seasons, but proved just how far he'd come as a player.
Bottom Line: Although Watford didn't always play to his potential, he exhibited remarkable strides in his third season. With Cody Zeller inside commanding attention, Watford was able to shift to a role he was more comfortable with and thrived. His 3-point shooting improved immensely and he became more effective finishing in the paint and through contact.
While his future in an IU uniform is up in the air as he evaluates his professional future, a return for a senior season would significantly enhance the Hoosiers chances at a Final Four run next season.
Previously: Jordan Hulls, Matt Roth, Tom Pritchard, Verdell Jones
Filed to: Christian Watford