That's A Wrap: Victor Oladipo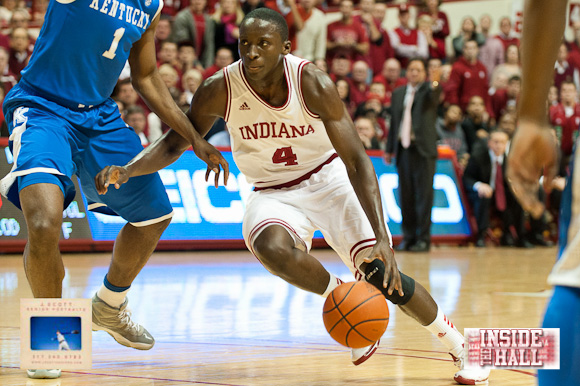 Welcome to "That's A Wrap," our player-by-player recap of the 2011-2012 Indiana Hoosiers. Today: Victor Oladipo.
Final stats (36 games): 10.9 ppg, 5.5 rpg, 47.1% FG, 75% FT in 26.7 minutes per game.
Victor Oladipo was driving past the Kentucky defenders with relative ease. He played under control, and once shot blocker Anthony Davis went to the bench with two fouls, Oladipo got the the rim nearly every time he drove.
"They can't stop you!," Indiana coach Tom Crean yelled from the bench.
Oladipo's 15-point performance in Indiana's Sweet 16 loss to the top-seeded Wildcats was a perfect example how dominating he can be when he plays within himself. It also showed how far he has come in only a year. Oladipo was easily Indiana's most improved player this season.
He showed more explosiveness in his sophomore year, he played more under control, and he grew into one of the Hoosiers' top defenders. Oladipo also displayed a fearlessness that seemed to carry over to his teammates in the season's biggest games.
In a home game against Michigan State in Februrary, for example, Oladipo attacked the basket regardless of how many defenders were in the lane. He scored 13 points and got to the line eight times. He also set the tempo for the Hoosiers' defense by starting the game matched up against Draymond Green, the Big Ten Player of the Year.
Oladipo scored 10 or more points in 21 games this season, 11 more games than last year. He also increased his free-throw percentage from 61 to 75, and he got there four times per game.
For as much as he's improved, Oladipo can still get much better. He needs to develop his outside jump shot to force defenders to come out and guard him instead of playing him for the drive. His 3-point percentage dipped from 31 percent last season to 21 percent, and he made only 1-of-10 from beyond the arc in the final 12 games of the season. If Oladipo could make the occasional 3-pointer, he would be a nearly unstoppable offensive player.
While Oladipo is a strong on-ball defender, he sometimes falls asleep when his man doesn't have the ball. He got beat back door by a number of players this season. Oladipo seems to thrive against guards, but he occasionally struggles against bigger guys.
Bottom line: An under recruited and under appreciated high school player, Oladipo has quickly grown into one of the Hoosiers' most indispensable players. He has quickness unlike most other players, and he has already become a team leader.
Other than Cody Zeller, Oladipo has the most upside on the current roster. After the jump he took from his freshman to his sophomore year, it's scary to think what the Hyattsville, Mary. native can do with another summer to work on his game — especially if he can develop a more consistent jump shot.
Previously: Previously: Derek Elston,  Jordan Hulls, Matt Roth, Tom Pritchard, Verdell Jones

Filed to: Victor Oladipo