That's A Wrap: Derek Elston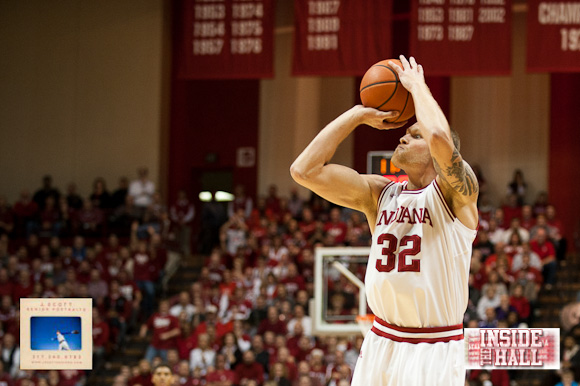 Welcome to "That's A Wrap," our player-by-player recap of the 2011-2012 Indiana Hoosiers. Today: Derek Elston.
Final stats (34 games): 4.5 ppg, 2.4 rpg, 49.5% FG, 57.9% FT in 12.3 minutes per game.
With Cody Zeller's addition to the Hoosiers in 2011-12, Derek Elston played (15.5 minutes per game in 2010-11) and scored less (4.9 points per game in 2010-11). And though we noted him as an x-factor heading into this season, it was the improvements of sophomores Will Sheehey and Victor Oladipo that were more of a difference maker in Indiana's Sweet 16 run.
Still, the Tipton native showed more maturity to his game in his junior season. While mental mistakes often plagued him during his freshman and sophomore campaigns, Elston cut down on those this year. Part of this was apparent on the defensive end of the floor. Elston committed 5.7 fouls per 40 minutes last season, as he struggled to defend without drawing contract and committed silly, unnecessary fouls. This season, Elston clocked in at 4.1 fouls per 40 minutes, a marked improvement.
Elston started the season strong scoring in double figures twice (11 points vs. Stony Brook, 10 points vs. Gardner-Webb) and nine twice (Evansville, Savannah State) on a blistering 69.5% shooting. But the injury bug hit, as he missed the Kentucky game in December and a broken nose suffered in practice kept him out against UMBC 12 days later. (Though, these were the only two games Elston missed in his junior campaign after he admitted before the season he was playing at less than 100 percent in 2010-11 due to a hernia.)
He had his best offensive Big Ten games against Iowa, scoring 11 points on 4-of-5 shooting in Indiana's home win against the Hawkeyes on Jan. 29. Elston also scored 13 points on 4-of-6 shooting in Iowa City, a game the Hoosiers lost  78-66 on Feb. 19.
The junior was also a contributor to Indiana's strong 3-point shooting this season, as he hit 55.2% (16-of-29) from distance.
Bottom Line: While some of Elston's per game stats were down due to playing less minutes, he actually notched the highest offensive rating (108.1) of his career. Elston, thanks to his strong 3-point shooting, also finished fourth on the team among regulars with an eFG% of 57.0. And outside of Christian Watford (18.7 DR%), he snagged the highest percentane of defensive boards on the team (17.1%).
Though Elston may never star on this team — especially with the influx of talent coming for his senior season — his final year in Bloomington could be one where he brings steady veteran play off the bench. And if Watford leaves early for the NBA, Elston could be called on a bit more than he was this year.
Previously: Jordan Hulls, Matt Roth, Tom Pritchard, Verdell Jones, Christian Watford
Filed to: Derek Elston