Q & A: Hanner Mosquera-Perea at ESPN's NHSI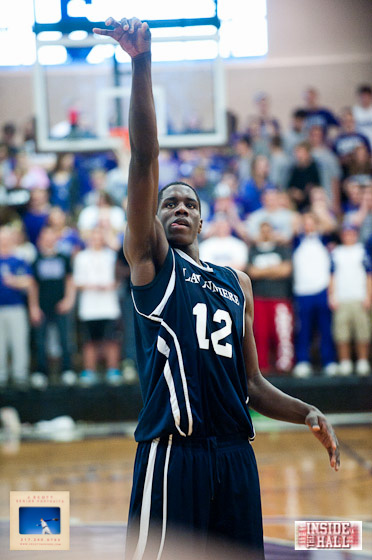 The ESPN National High School Invitational ran from Thursday through Saturday at Georgetown Prep in North Bethesda, Md. and Indiana 2012 commit Hanner Mosquera-Perea participated. He had 10 points in La Lumiere's 62-54 loss to Montverde (Fla) in the opening round.
Despite an early defeat, the Lakers stayed in the Washington D.C. area for the remainder of the weekend. Inside The Hall's Greg Rosenstein caught up with Perea on Saturday as he watched the tournament title game:
On how he did against Montverde:
"I didn't play my best. We didn't have a very good start and our guards played kind of nervous. I didn't get to touch the ball that much in the first half, but in the end I had a few rebounds and was able to score."
On the tournament overall:
"We've been working for this for a long time. Me and some of my teammates wanted to come here for two years now and play against all of these great players on T.V. for a national championship. It was a great experience."
On watching Indiana make the Sweet Sixteen:
"It was amazing. I know a lot of people didn't expect them to be that good this year, but I always knew Coach Crean would find a way to get the team better. It was amazing to see them go that far and it makes me want to play for them even more. Next year I think we can go even further."
On his excitement to get to campus:
"I'm really excited. I'm looking forward to the workouts, the gym, the weight room and everything. I'm not sure when exactly, but I'll be there sometime this summer."
On if he's spoken to Coach Crean recently:
"He came to our last practice back home. He said he came to see what I needed to work on before next year. We spoke a little bit. He said they were looking forward to having me there."
On what he hopes to contribute next season:
"I'm going to do the best I can. Rebound. Scoring. I'm going to play the hardest I can every single game."
On what he worked on the most this past season:
"My timing. I worked on not rushing my moves and taking my time and finishing around the basket."
On his plans the next few months:
"I'll go back to school, have about ten days off (for Spring Break) and then start going to the weight room and gym.
"I'm going to work on my handles and my shot. I'm also going to get more weight so
whenever I get to IU, everything won't be too hard for me."
On playing again with former high school teammate and IU commit Peter Jurkin:
"I'm really excited. It's been two years since I last saw him because he didn't play AAU with us this past summer. I still talk to him a lot. I hear he's played really good and has gotten bigger."
Filed to: Hanner Perea