That's A Wrap: Remy Abell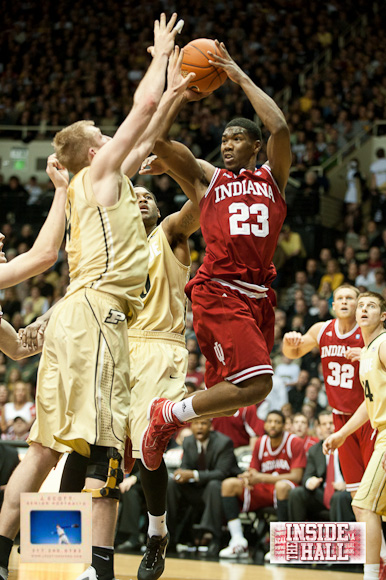 Welcome to "That's A Wrap," our player-by-player recap of the 2011-2012 Indiana Hoosiers. Today: Remy Abell.
Final stats (32 games): 3.0 ppg, 44% FG, 78.6% FT in 8.3 minutes per game.
Coming into the season, few people were talking about Remy Abell. He was the "other" freshman in a class that included the savior in Cody Zeller and Austin Etherington, an Indiana kid. Abell, a Louisville native, wasn't heavily recruited, and he wasn't expected to play much during his freshman season.
Abell, though, had higher expectations for himself. He made it clear early on that, regardless of how many minutes he got, he was going to make a difference on the floor.
While he went through stretches where he rarely got off the bench, Abell eventually proved to be an important piece to the Hoosiers' success. With Verdell Jones sidelined with a shoulder injury, he scored 13 points in 19 minutes at Purdue in early February, including a dagger 3-point that put the Boilermakers away.
Abell would score only six more points over the final seven games of the regular season, but he stayed ready. When Jones tore his ACL against Penn State in the Big Ten Tournament, Abell got his big opportunity.
His playing time doubled in the three NCAA Tournament games, and he played with a certain fearlessness most freshmen don't possess. Abell scored 14 points on 50 percent shooting in the three tournament games.
Bottom line: Abell was a pleasant surprise for Tom Crean and the Hoosiers this season, and figures to be a key role player in the years to come. He improved as an offensive player throughout the season, but like most freshmen, he occasionally made questionable decisions with the ball. Crean was hesitant to play Abell more throughout the season because the point guard has to be responsible for all five guys on the floor, something that's often difficult for a newcomer to handle.
Abell seemed to grow more comfortable and showed more personality as the season went on. Jones worked with him on becoming a more vocal floor leader, and Abell seemed to grow in that area during the tournament.
Abell's major strength comes on the defensive end where he's shown the ability to contain some of the Big Ten's best guards. He grew into one of the Hoosiers' best on-ball defenders, and he never seemed intimidated by the guy standing across from him. Realistically going forward, Abell will be used as a defensive stopper and a guy that can back up Yogi Ferell and Jordan Hulls as a reliable ball handler.
Previously: Christian Watford, Derek Elston, Jordan Hulls, Matt Roth, Tom Pritchard, Verdell Jones, Victor Oladipo, Will Sheehey, Cody Zeller, #benchmob
Filed to: Remy Abell