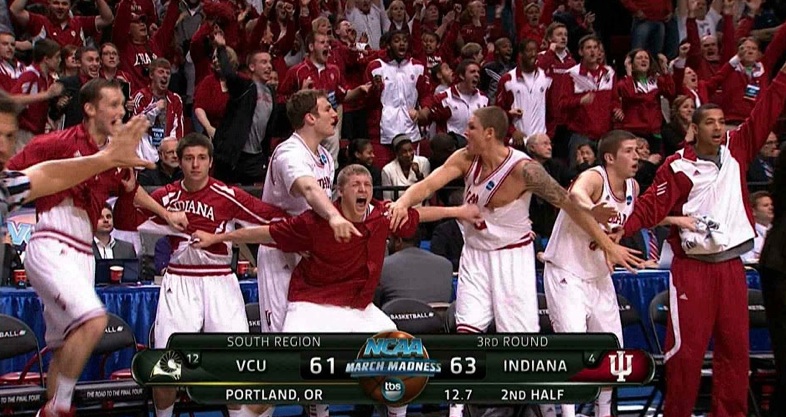 Welcome to "That's A Wrap," our player-by-player recap of the 2011-2012 Indiana Hoosiers. Today: #benchmob.
Perhaps we've already covered many on the IU roster who would consider themselves a part of the bench mob. The moniker did, after all, take on a life of its own during the final weeks of the Hoosiers' turnaround season. Jim and John Harbaugh, brother-in-laws to Tom Crean, even donned #benchmob t-shirts for IU's final game at the Georgia Dome.
But since the originating members were not a part of IU's regular rotation this season, it only felt appropriate to give this group its due for their contributions.
For "That's A Wrap" purposes, the classification to be included in the #benchmob was no presence on the KenPom player stats page. By this criteria, the group includes Austin Etherington, Daniel Moore, Jeff Howard, Kory Barnett, Maurice Creek, Raphael Smith and Taylor Wayer.
While statistics won't tell you much about the importance of these seven players in IU's 29 wins, their presence both as individuals and as a group was a key to the Hoosiers' success.
After having the opportunity to sit behind the bench on press row for both of IU's games at the Big Ten Tournament, it became clear just how involved this group was. Crean demanded chatter and energy from the entire bench and that's exactly what he received. There was rarely a moment when someone wasn't calling out a screen or making an observation to a teammate. And if Crean sensed a lull in energy, the bench quickly responded to his call for more engagement. The hand gestures, cheering, smiles and encouragement helped keep this team loose and having fun.
Beyond those observations, each of these guys deserve credit for playing their part in IU's revival season.
Moore and Barnett came to Bloomington for Crean's first season and ultimately reaped the benefits of a NCAA Tournament run after navigating through three of the most trying years in the program's history.
Creek never expected to be relegated to the bench after the promise he showed early in his freshman season, but three injuries forced him there. Still, as the junior guard spoke from in front of his locker at the Georgia Dome following IU's Sweet 16 loss, it was clear he wanted the game just as badly as anyone else.
Howard, Smith and Wayer rarely played or were heard from publicly, but each played a day-to-day role as a teammate that ultimately helped guide improvement in practice. And Etherington, the first member of IU's 2011 recruiting class, played hard when his number was called.
The Bottom Line: On a team that far exceeded all expectations, the importance of strong team camaraderie was evident. As the season moved along, this group seemed to become more tightly knit. And although the ultimate outcome of the games was decided on the floor, the #benchmob clearly played its part in IU's return to national prominence.
Previously: Christian Watford, Derek Elston, Jordan Hulls, Matt Roth, Tom Pritchard, Verdell Jones, Victor Oladipo, Will Sheehey, Cody Zeller
Filed to: #benchmob