Could Kansas replace Kentucky on Indiana's schedule?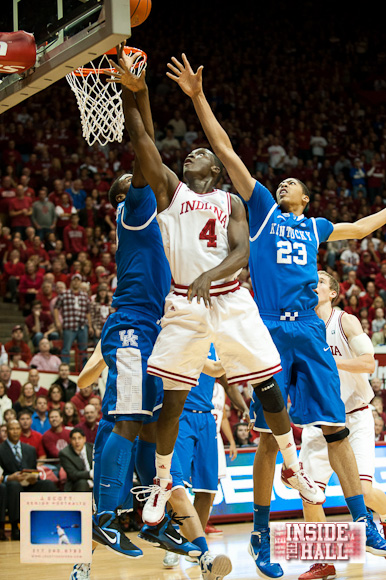 With an expired contract and both sides with different ideas on where the series should be played, the possibility of the Indiana-Kentucky series being placed on hiatus next winter seems real.
Indiana Athletic Director Fred Glass told Inside the Hall's Justin Albers last week that he would prefer the series to remain at Assembly Hall and Rupp Arena, but Kentucky is pushing for a return to neutral sites.
Before returning to a home-and-home format in 2007, the annual clash between the Hoosiers and Wildcats had been played at Freedom Hall in Louisville and the RCA Dome in Indianapolis.
"I strongly prefer to keep the games on the respective campuses," Glass told Inside the Hall on April 5. "We owe it to our student bodies to try to do that."
If the situation can't be resolved, it appears the Hoosiers may have found a suitable replacement: Kansas.
Word trickled out over the weekend in this Courier-Journal column about the possibility of a series with the Jayhawks and Tom Crean acknolwedged it as a real possibility to ESPN.com:
"We'll have to wait and see," Crean said. "We're not overscheduling. We're not playing Kentucky if we're playing Kansas."

Kansas and Indiana have talked about starting a series next season. "There is interest on both sides, and the networks want to do it," Crean said.

Crean said he isn't sure if the Kentucky game would survive as a series, whether it's at a neutral site, next season or at all.
If Kentucky won't commit to playing the game at Assembly Hall and Rupp Arena, Crean and Glass will have a decision to make. And there are several factors to consider.
— Is Indiana better off playing Kentucky at a neutral site than not at all? The rivalry is back thanks to a couple of great games this past season, but part of what made the first game great was the atmosphere in Assembly Hall. Much of that would be lost in a neutral site game.
— Does Indiana need another game in Indianapolis? The Hoosiers played a regular season game last year against Notre Dame in Conseco Fieldhouse and they'll do so again next winter (Butler). With the importance of non-conference home games as a revenue source for the athletic department, this will be a consideration.
— If IU agrees to a neutral site series, where would the games be played? Louisville has not allowed Kentucky to play in the Yum! Center and an IU-Kentucky game is unlikely to be an exception to that rule, especially when the Cardinals have expressed interest in a series with IU. So that leaves Freedom Hall, which is outdated and lacks the amenities that can be provided in Bankers Life Fieldhouse or Lucas Oil Stadium.
— Is Kansas an adequate replacement? No question. The atmosphere at Phog Allen Fieldhouse is among the best in the country and the Jayhawks are an all-time top ten, maybe top five, program. Kansas isn't Kentucky, but if IU is looking for a home-and-home, this series would be near the top of the wish list.
Neither side has placed a timeline on a resolution, but Glass did tell Inside the Hall last week that he hopes to have things worked out "soon."
Filed to: Kansas Jayhawks, Kentucky Wildcats