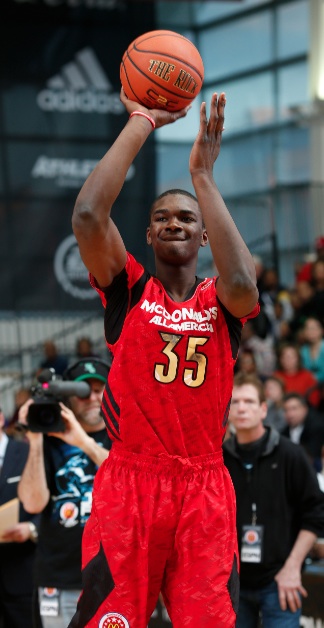 Meeting with the media for the first time as part of the Indiana basketball team Friday afternoon, IU's freshmen agreed on what aspect of the college basketball life had surprised them most.
"The conditioning," Troy Williams simply put it.
Though they are only one week into their first fall semester, IU's freshmen players have been on campus since early June, adjusting to the conditioning demands of the Indiana basketball program. And it wasn't easy, especially under strength and conditioning coach Je'Ney Jackson.
"You find out you're not in shape like you thought you was," Williams said.
"It's been pretty tough," Devin Davis added. "You have to get your mind right for every workout. You can't come in and just think you're going to get by. You really have to push yourself."
It hasn't gone unnoticed. Each player said they feel as if they have significantly improved in both strength and speed since they arrived in Bloomington.
And at the Amar'e Stoudemire and LeBron James skills academies this summer, other players took notice of Noah Vonleh's particular transformation, who has gone from 215 to 240 pounds.
"A lot of guys I played high school basketball and camps with were saying I got a lot bigger and a lot stronger, this and that," Vonleh said. "I just feel like I'm continuing to get better."
'You can follow in their footsteps'
In late June, Indiana's entire team, including the newcomers, watched from their locker room as former Hoosiers Victor Oladipo and Cody Zeller were selected in the top four of the NBA draft.
"We all saw the faces on Cody and Victor," Davis said, "and we just realized how much hard work they put in to get to their dream."
Now, only two months from the start of their freshman season, IU's newcomers have seen how they can get to the next level from Bloomington: mainly, through a strong work ethic.