To stay or to go: Breaking down the impact of Williams, Blackmon Jr. NBA decisions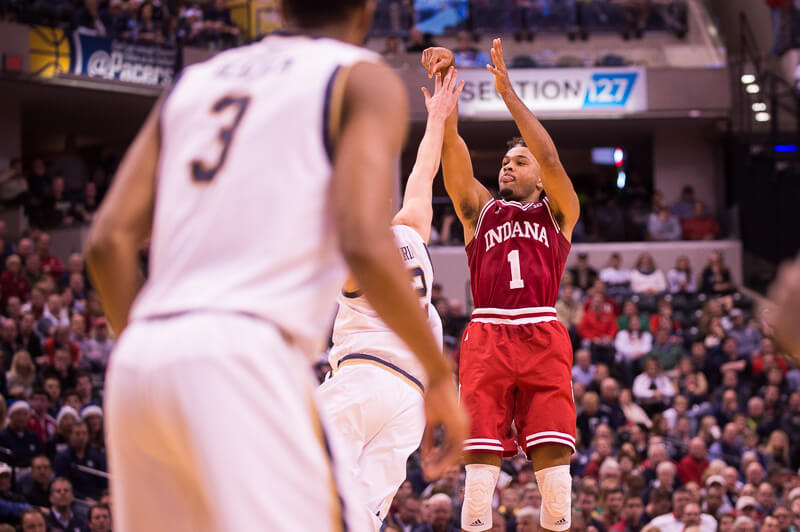 The deadline to withdraw from the NBA draft is Wednesday, May 25, which means we'll know in the next 72 hours whether Troy Williams and James Blackmon Jr. will return to Indiana next season.
Here's a look at the impact of each decision for Indiana's outlook next season:
Troy Williams
If he stays: Regardless of how much you believe in OG Anunoby taking the next step in his development as a sophomore, the return of Williams makes Indiana's frontline even more dangerous next winter. Yes, his decision making is questionable at times and he'll have games where he's a no-show (at Michigan State last season), but there are also times when Williams can take over a game by attacking the basket relentlessly.
Many have anointed Indiana a top 10 or top 15 with or without Williams next season, but Indiana has more upside with him on the roster. A third team All-Big Ten selection as a junior, Williams would likely enter the season as one of the Big Ten's 10 best players with a chance to show he can lead a team as an upperclassman.
If he goes: If Williams stays in the draft, Anunoby morphing into an all-league type of player and solid production from De'Ron Davis and Juwan Morgan will be a necessity for the Hoosiers. Anunoby has shown he can play at a high level, but he also struggled against North Carolina in the NCAA tournament, so he's no sure thing to be as productive as Williams.
Indiana would also be without one of its best playmakers with the ball and a guy who can create a shot for himself, even if he is turnover prone at times. The rebounding presence vacated by Williams, the team's best defensive rebounder from a percentage standpoint, would also have to be replaced.
James Blackmon Jr.
If he stays: Blackmon Jr. was averaging 15.8 points and shooting 46.3 percent on 3s as the time of his injury last season, which are two numbers that are unlikely to be duplicated by anyone else in IU's backcourt. With the loss of Yogi Ferrell to graduation, Indiana needs a backcourt player who can create offense and if healthy, Blackmon Jr. is the best option on the roster to step forward. He's not a point guard, but he can handle the ball capably enough to spend some time there and can also get his shot in late shot clock situations.
His defense obviously needs work, but after watching his teammates win the Big Ten title last season because of their improved work on that end of the floor, Blackmon Jr. surely knows he'll have to step up the production on that end of the floor. If he's back, it also allows Indiana to bring freshmen Curtis Jones and Devonte Green along at a slower pace as Blackmon Jr., Robert Johnson and Josh Newkirk should start the season as main cogs in the backcourt.
If he goes: Indiana loses its best backcourt scorer and will need Johnson to become a much bigger part of the offense. The Hoosiers will also have to rely more on Jones, a top 50 recruit and perhaps Green as well.
The backcourt scoring piece, however, is the key. Indiana is already losing Yogi Ferrell, so losing Blackmon Jr. would make the Hoosiers a much more frontcourt oriented team with less perimeter shooting. Tom Crean's best teams in Bloomington have struck a solid balance between scoring up front and in the backcourt, but this group would likely be counting on Thomas Bryant to score 17 or 18 a game in the scenario that Blackmon Jr. departs.
Filed to: James Blackmon Jr., Troy Williams