Around the Hall: Draft discussion, Big Ten TV deal, more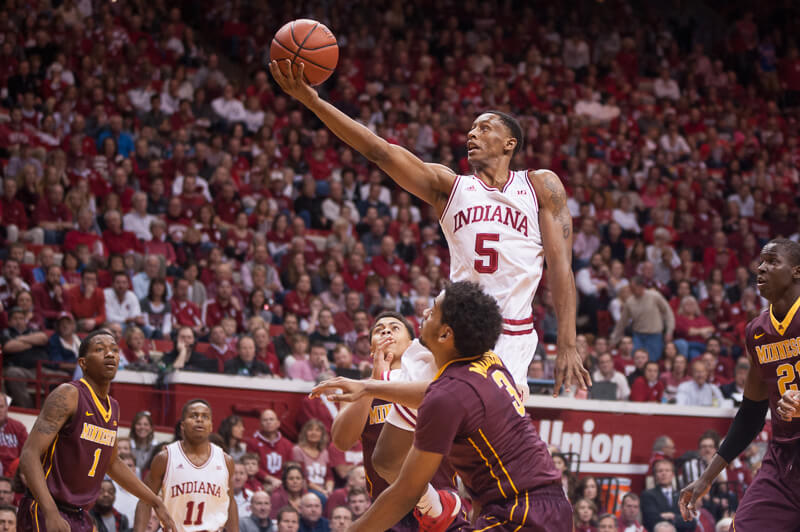 Around the Hall is recommended reading from the Inside the Hall staff.
Seth Davis of Sports Illustrated has his annual pre-NBA draft column featuring feedback from anonymous NBA sources more than 50 prospects. The words on Yogi Ferrell and Troy Williams aren't particularly kind:
Yogi Ferrell, 6-foot senior guard, Indiana: "I like that he got better, especially as a defender. He thinks he belongs. He's a good shooter, but he's tiny, and he's not a dynamic athlete. Good player but not at our level."

Troy Williams, 6'7″ junior forward, Indiana: "I don't see it. Plays too fast, doesn't know who he is as a player. Not a lot of substance there. Awful decision to come out. Very possible he goes undrafted. Good athlete, but a poor shooter and a very low basketball IQ. He's just out of his mind, he's so wild. He can do highlight-reel stuff, but for every good play he makes, the next three are gonna be ugly. He's not a great shooter, but he thinks he is. He'll have an opportunity to play because of his athleticism and energy, but I don't think he sticks very long.
Rob Dauster of NBCSports.com runs through his list of potential breakout lottery picks in college basketball next season:
O.G. Anunoby, Indiana: I'm not sure Anunoby fits the criteria here, considering that he didn't declare for the draft and spent much of his freshman season playing limited minutes behind Troy Williams. But once Tom Crean realized what he had in Anunoby, he became a integral piece of Indiana's puzzle. He's such a talented and versatile defender, if he can make himself into some kind of offensive threat on the perimeter he'll be a first rounder. If he turns into a guy that can average 15 points and shoot 40 percent from three, he might be a lottery pick.
Jeff Borzello has a summer recruiting road map for Indiana over on ESPN Insider ($):
And that brings us to the big question of the 2017 cycle for Indiana: what will it need 10 months from now? With Durham taking Hartman's vacated scholarship, the Hoosiers are already at 13 scholarships for the 2017-18 season. However, Blackmon, Anunoby and Bryant could all leave early for the NBA. Blackmon tested the NBA Draft waters this past spring before coming back for another season, while Anunoby and Bryant decided in April to return to Indiana for their sophomore campaign. All three could leave after next season, meaning Crean could need some reinforcements. We're likely to see the Hoosiers look for big men, given they still lack size up front — as well as a scoring guard or wing, and potentially a pure point guard depending on how the freshman class performs next season.
Teddy Greenstein of The Chicago Tribune writes that Big Ten coaches are excited about the news of the league's new deal with ESPN:
Delany declined to confirm the deal in a text message to the Tribune, saying the conference was not the source of the SBJ story. Delany said the conference has had "constructive discussions with ESPN" and he hopes to have more to say later in the summer.

A logical time and place for an announcement would be Big Ten football media days July 25-26 in Chicago.

The conference has asked coaches and athletic directors not to comment on the pending deal, but their excitement is palpable — and not just over the prospect of an extra $20 million per year.

"An amazing deal," one coach called it.
Awful Announcing breaks down what the new Big Ten TV contracts mean for viewers:
For those who watch Big Ten Network, nothing will change, It will still carry 35-40 football games and 60-65 in-conference basketball games and selected tournaments games. Fox has 51% ownership of the Big Ten Network, but now by getting half of the main Big Ten contract it adds to its college sports portfolio and brings some big games to FS1.

As for ESPN/ABC, you won't watch the major football and basketball games after this season. Starting with the 2017-18 season and going through 2022-23, the ESPN family won't be the main network for the Big Ten. That now shifts to Fox which will have first pick of the football games for much of the season. In addition to keeping the Big Ten Football Championship, expect to see games like Michigan-Ohio State, Michigan-Michigan State and other big conference games on Fox/FS1. ESPN, ESPN2 and ABC will continue to air Big Ten football, but ESPNU which carried its share of conference football games will see a reduced schedule to almost none.
Filed to: O.G. Anunoby, Troy Williams, Yogi Ferrell