Draft Watch: Will Ferrell and Williams get picked?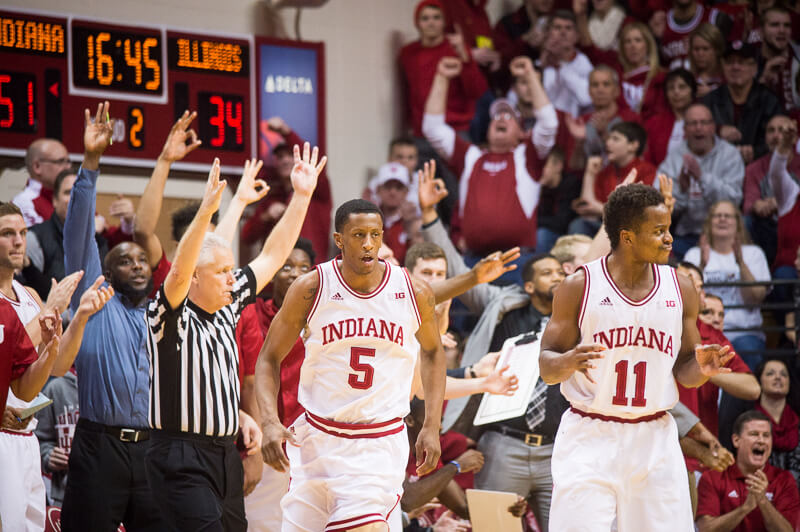 The wait is over for Yogi Ferrell and Troy Williams. The NBA draft begins tonight at 7 p.m. ET at the Barclays Center in Brooklyn and both players are being discussed as potential second round picks.
In our final "draft watch" this year, we take a look at the latest on both players:
Draft Rankings – Williams
DraftExpress Top 100: No. 73 (up three spots since last update)
ESPN Top 100 (Ford): No. 75 (down five spots since last update)
NBADraft.net: No. 55 (down five spots since last update)
CBS Sports (Vecenie): No. 79 (up one spot since last update)
Williams has been absent in most mock drafts and the feedback from an anonymous NBA voice earlier this week in Seth Davis' column wasn't encouraging:
"I don't see it. Plays too fast, doesn't know who he is as a player. Not a lot of substance there. Awful decision to come out. Very possible he goes undrafted. Good athlete, but a poor shooter and a very low basketball IQ. He's just out of his mind, he's so wild. He can do highlight-reel stuff, but for every good play he makes, the next three are gonna be ugly. He's not a great shooter, but he thinks he is. He'll have an opportunity to play because of his athleticism and energy, but I don't think he sticks very long."
Jay Bilas of ESPN was more bullish on Williams in comments on a conference call on Tuesday afternoon:
"I think Troy Williams is probably going to be at or around the end of the second round. I do think he's a draftable player because of his athleticism, his ability to run the floor and his ability to finish plays in transition. And I think he can be a good defender because he kind of fits the suit there. He's got size, he's not crazy long, but he's a high-flyer. He's explosive, he plays with a lot of energy. More of a driver than anything, but really did a good job in transition. Can hit some perimeter shots, but not quite an NBA range 3-point shooter. I think he should be a better defender with his athleticism, but he's done a good job. I think his value is in the fact that he brings energy, athleticism and he can finish plays. He's just got to play with a little more efficiency. Not turn the ball over, take better shots, things like that."
Williams also generated some positive buzz following a workout in Dallas:
SFs Dorian Finney-Smith (Fla.), Alex Poythress (Kentucky) and Troy Williams (Indy), and PG Tyrone Wallace (Cal) did good in #Mavs' workouts.

— Dwain Price (@DwainPrice) June 22, 2016
Draft Rankings – Ferrell
DraftExpress Top 100: No. 63 (unchanged since last update)
ESPN Top 100 (Ford): No. 76 (up three spots since last update)
NBADraft.net: No. 80 (down seven spots since last update)
CBS Sports (Vecenie): No. 58 (down one spot since last update)
Ferrell's big board rankings are all over the place as DraftExpress and CBS both have him in the mix for late second round and ESPN and NBADraft.net have him much lower on their boards. The anonymous scout interviewed by Seth Davis was more positive on Ferrell than he was on Williams:
"I like that he got better, especially as a defender. He thinks he belongs. He's a good shooter, but he's tiny, and he's not a dynamic athlete. Good player but not at our level."
Jay Bilas on Tuesday said he doesn't have Yogi getting picked because of his size:
"Yogi is a smaller guard. He did a very good job, he kept getting better and better, he can shoot it, good leader. Very good job at creating for himself and for others out of pick-and-roll situations. Gets his shot off quickly. He can shoot it off the catch, shoot it off the dribble. Pretty good in isolation. He's just not got a lot of size. He's not a superior athlete and he doesn't have a lot of size. I do not believe he's going to get drafted. He wasn't invited to the (draft) combine. I thought he should have been, but he wasn't and that's a pretty good indicator that he's not high enough up on the draft radar. But like I've said about other players, he might be better off not getting drafted. Then he can pick where he goes and have a better opportunity to make a team."
Sports Illustrated, however, has Ferrell as one of its five draft sleepers:
Considered right on the cusp of some team's draft boards, Yogi Ferrell will almost certainly be in an NBA training camp next season. He can run a team extremely well at the point guard position. He's a pit bull on-ball defender. Ferrell has shown a solid shooting stroke as well—he was the only point guard in the NCAA this year to average 17 points and 5.5 assists per game while shooting more than 40% from three-point land. At 6′ 0″, there are warranted defensive concerns about Ferrell around the league. As the playoffs just proved, it's easy to target smaller perimeter defenders in pick-and-rolls. He's also already 23 after graduating from Indiana, but Ferrell has been a proven winner and has outperformed many of the higher-ranked point guards on the workout circuit. He'll either be drafted or his agent's phone will be buzzing afterward from teams trying to sign him to a small, guaranteed contract to get him on their summer league roster and into camp. Don't be surprised if he ends up a team's third point guard on opening night a la T.J. McConnell and Matthew Dellavedova.
Meanwhile, Ferrell said on Wednesday night that he's hearing he'll be picked early to mid second round:
Yogi Ferrell tells me he's hearing he'll be taken early to mid 2nd round tomorrow in the #NBAdraft pic.twitter.com/rxlngmK4R0

— Tricia Whitaker (@TriciaWhitaker) June 23, 2016
Filed to: Troy Williams, Yogi Ferrell