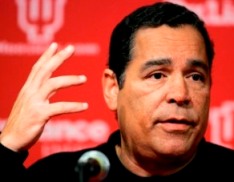 Another day has passed and more digging into the NCAA case summary is complete. This time, it's excerpt from an interview with Kelvin Sampson where he denies ever being on a three-way call where he and Rob Senderoff talked simultaneously.
Here's what Sampson said on November 13, 2007: "There was never, there was never an instance where I was on the phone with a kid where Rob Senderoff talked."
However, interviews conducted by Mark Neyland of the NCAA enforcement staff with Yvonne Jackson (mother of Devin Ebanks), Will Buford, DeJuan Blair, Yancey Gates and Demetri McCamey tell a different story.
Transcripts of those conversations after the jump.