The Morning After: Purdue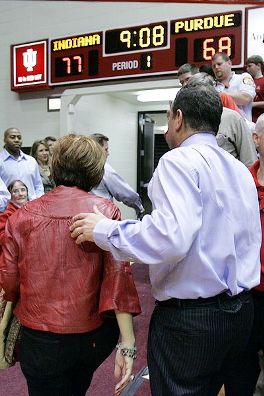 This is weird. Isn't it? Isn't it strange to be in this position right now? To gather, as I did last night, with friends at a bar, to celebrate another game with a Fat Tire and a sandwich, and to know all along that no matter what happens, your team's coach is going down? He can beat your most hated rival (who just so happens to be the Big Ten's top team) and still, against his will, it will be the last win of his tenure.
That's two such wins now. The first was Saturday against Michigan State, a dominating performance that showed a resilient team rallying around their coach. The second was last night. Was it me, or did the focus seem to shift? Maybe it was because I was in a bar and couldn't make out the commentary very well, but did last night's audience — swept up in an important rivalry atmosphere — seem to forget about the sanctions for 40 minutes? I know I did.
It will be jarring to lose Sampson on Friday, but at this point, I'm not sure his presence is needed on the sidelines anymore. Stay with me here. It's hard to complain about distractions after two very solid wins, but Sampson's saga is a distraction. His assistants have been coaching this team all year; no doubt IU's players feel just as comfortable with each of them as they do with Sampson. (Perhaps moreso, given the player-assistant-as-friends dynamic a lot of teams have.) It will be a difficult adjustment, seeing Dan Dakich running up and down the sidelines, but if the Hoosiers showed anything last night, it was a level of maturity and self-definition that gives me confidence in the coming games.
But that confidence doesn't mean part of me won't miss Sampson. He's only been here for two years, yes, and even if this eulogy is premature (we still think Sampson's going to be suspended Friday rather than fired), it will be a different place without him. He's a frustrating coach, but if the past two years have taught us anything about his style it's that his teams improve. They get better. They can make you miserable in November and December and even January, but come February and March they coalesce. They play hard together. They defend. And they're fun to watch.
It's a shame we can't have a third year, but it's a self-inflicted shame. And we know what we have to do. The dog might be cute. You might love the dog. But if the dog can't control his bite, you put him down. It sucks, and it's sad, but it's best for everybody.
— Part of my confidence in a post-Sampson team this year is, like I said, that improvement. If the coach has given us one present before he's suspended/fired/never heard from again, it's in progressing his team forward by leaps and bounds in the past two weeks. This is a team, remember, that barely squeaked out an away win at Illinois, a team that I had all but written off as a serious contender. That team had brutal flaws: couldn't defend the perimeter, couldn't play man-to-man, couldn't find a decent four spot, couldn't get decent point guard play. Are any of these problems anymore?
— Armon Bassett is playing as well as he's ever played, not only in shooting the ball — if he keeps improving, he's going to be an incredible shooter — but in the way he runs the offense. He still had too many turnovers (5), as did IU (23. Eesh.). But he was focused, efficient, made good decisions, got IU into their half-court sets quickly … he was what you need a point guard to be.
— Turns out IU can defend the perimeter: Purdue took 72 shots in a 72-possession game last night, and only happened to connect on 25 of them. What's worse, they were 7-25 from three, and posted a 39.5 effective field goal percentage, the type of shooting night that will kill you regardless of the defense you're facing. Still, call me optimistic, but given the way Purdue's been shooting from three the past few games, IU deserves a lot of credit for challenging those perimeter shots both in the zone and in man-to-man defense.
— As for the four spot, Kyle Taber is, well, he's Kyle Taber, but it turns out Kyle Taber is all we need at the four. Compared to Mike White and DeAndre Thomas, who are both incredible mistake- and foul-prone, Taber is a breath of fresh air. Where Thomas believes it's important to get himself shots, Taber actually refuses to shoot the basketball unless he's three feet from the hoop. Seeing as we have the country's best big man — that's right, D.J.'s better than Tyler Hansbrough — across from that four spot, all we really need is Kyle Taber. Now, if we could only find a spot for Adam Ahlfeld …
— The one overriding negative about IU's performance last night was the turnovers. Those have to get cleaned up. Fortunately, IU was efficient in every other phase of the game. Check it out, courtesy of Statsheet:
That chart shows a team that outplayed Purdue in every offensive phase of the game. The only thing Purdue did demonstrably better than IU was score more field goals, but it happened to take them, oh, 30 more shots to make an extra five. In the meantime, IU was getting to the line and making 88 percent of their free throws. Perhaps my favorite stat is total possessions: The Hoosiers weren't afraid to get up and down the floor last night, a major plus playing against a strong Purdue team that seems comfortable bruising under the basket.
— What little commentary I heard last night was from Steve Lavin, who was actively campaigning for D.J. White to receive player of the year honors. I think it's official: Steve Lavin loves IU. Earlier in the season his hyperbolic love was directed toward Eric Gordon; now, it's White. We have to ask the question (jokingly): Does Steve Lavin want the IU job? Would we want Steve Lavin? I can just imagine the press conferences — Lavin using every goofy catchphrase he's come up with in broadcasting. "Well, you know, Armon Bassett's just our energy guy out there, he's our little pepper pot …"– Finally, in closing, a note to Purdue fans: If your social scene is so broke that you have to congregate in alcohol-less Mackey Arena to get your kicks for IU-Purdue, I've underestimated the lameness of your college experience. Please, please don't do that again. Go get some beer in your system. Live a little.
Also, Scott Martin looks like he's 14. That's all.
Anyway, if we have to lose our coach, and say goodbye to the promise of his tenure, last night was a pretty damn good way of doing it. Pat Forde summed up how to feel pretty well this morning:
"We love your team. We hate your ethics. We're confused as hell. We want to thank you for beating Purdue — and now we'd like you gone."
Farewell, Kelvin.
Filed to: Adam Ahlfeld, Armon Bassett, D.J. White, Dan Dakich, DeAndre Thomas, Eric Gordon, Kelvin Sampson, Kyle Taber, Mike White, Purdue Boilermakers, Scott Martin, Steve Lavin, Tyler Hansbrough