Hoosiers grab a share of Big Ten lead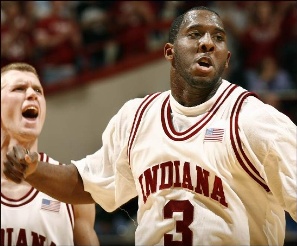 Eric Gordon scored 22 points, D.J. White added 19 points and 15 rebounds and Armon Bassett chipped in 16 as Indiana moved into a three-way tie in the loss column for first place in the Big Ten with a 77-68 win over Purdue.
The Hoosiers (22-4, 11-2 Big Ten) committed 23 turnovers, but hit 30 of 34 free throws and won the rebounding battle 46-30.
"We wanted E.J. and Armon to really drive it ," Indiana coach Kelvin Sampson said. "Play through D.J. as much as we could knowing that they would post double him, but just try to get to that free throw line. The turnover thing, like I said after the Minnesota game, sometimes you have to bring them in the huddle and remind them what color jersey you're wearing."
Much like the Michigan State game, the Hoosiers got off to a slow start. Purdue led 16-10 with 10:19 remaining in the first half before a 7-0 run gave Indiana its first lead.
The Boilermakers (21-6, 12-2) led 25-23 late in the first half, but Lance Stemler hit a three-pointer and the Hoosiers never relinquished the lead the rest of the way.
White, who was questionable due to a knee injury suffered on Saturday night against Michigan State, looked to be close to 100 percent and dominated the interior before fouling out with 10 seconds remaining.
"I just wanted to go out there and be aggressive," White said. "It was a big game. A lot of things were riding on this game. I wanted to be a part of it."
Gordon scored a majority of his game-high 22 from the foul line, where he hit 13 of 15 attempts. Bassett added a career-high eight rebounds.
Purdue entered as one of the top free throw shooting teams in the conference but managed just 11 of 21 for 52 percent. Robbie Hummel led the Boilermakers with 17 points and Scott Martin added 12.
The focus now shifts to the future of Sampson, but the Indiana coach refused to answer any questions about his situation and said he was planning to coach the team Saturday at Northwestern. Pat Forde of ESPN.com, citing sources close to the situation, reported late on Tuesday that Indiana is planning to suspend Sampson on Friday with the intent of firing him.
Related:
Filed to: Armon Bassett, D.J. White, Eric Gordon, Kelvin Sampson, Purdue Boilermakers, Robbie Hummel, Scott Martin