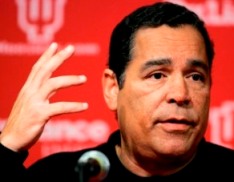 I've got two words for you, Kelvin Sampson: Beat Purdue.
Give us one last night to root for you, even if it makes us all a bit hypocritical. Give us another night like Saturday, a night where one long standing media member told me it was the loudest he's ever heard Assembly Hall. And most importantly, leave us with a chance to control our own destiny in the race for the Big Ten title.
When PostmanE, PostmanR and myself started Inside the Hall back in June, we did so not only out of our love of the Indiana basketball program and its tradition, but also because of our excitement of where the program was heading.
IU was finally past the debacle known as Mike Davis and despite your problems at Oklahoma, last season gave us hope that you were the man for the job. You took an average team and got them to play inspired, hard-nosed basketball. They pushed UCLA to the limit in the NCAA Tournament and by most accounts, it was the first in line of many successful seasons.
The excitement for this season started minutes after the last one ended with thoughts of Eric Gordon arriving in Bloomington. For me, that excitement intensified in August at New Albany High School when I got a look at the recruiting haul you were bringing to town. All was well in Hoosierland and thoughts of a trip to San Antonio danced in my head.
October brought the first sniff of controversy as Indiana announced secondary violations as part of an investigation by its compliance department. Most of us gave the staff the benefit of the doubt and Rob Senderoff took the fall for his involvement. No big deal in the whole scheme of things, right?
This season had been going well for the most part. Despite a lack of consistency on defense, the Hoosiers were 20-3 after their win at Ohio State on Feb. 10 and seemed to be playing well at the right time.
And then … well you know … all hell broke loose. It's all been well documented, so there's no need to go over it again. It is what it is.
You're likely coaching your last game at Indiana tonight. Most Hoosier fans will have mixed emotions as they watch the game, whether they're watching from the bleachers in the north end of Assembly Hall or at home on the couch with family and friends.
We wanted to see you succeed and bring Indiana back to the success it has always enjoyed. You had all of the tools at your disposal: support from the fan base, new facilities on the way and players that wanted to win for you.
Despite this, you chose to break the rules, either out of arrogance or stupidity. We may never know which. Somehow, someway, excessive phone calls were worth the risk of ruining the best coaching opportunity of your life.
So tonight we say goodbye to you, Kelvin Sampson. But before you go, one final request …
Beat Purdue.
Filed to: Kelvin Sampson, NCAA allegations