End of the line: Kelvin Sampson out at IU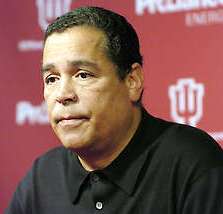 8:19 p.m. update: Let the speculation begin. Pat Forde of ESPN.com gives us his list of five head coaching candidates Indiana should pursue.
8:15 p.m. update: Here is a link to the Associated Press story just released. Nothing new, but a good summary of what has taken place up to this point.
8:00 p.m. update: The media is, as they have been for most of the day, gathered in the Hoosier Room at Memorial Stadium for a press conference. We're really not sure what the hold up is as multiple sources have confirmed that a buyout has been reached and that Sampson is no longer the Indiana head coach. What a great way to spend a Friday night, eh?
7:05 p.m. update: Statement from IU Athletic Director Rick Greenspan, according to Andy Katz: "I am very sorry to see our relationship with Coach Sampson end this way, but we have to focus on doing what's best for the long-term interests of IU and its men's basketball team."
7:01 p.m. update: Andy Katz of ESPN.com reports that IU and Sampson have reached a settlement of $750,000 to buyout his contract. As part of the agreement, Sampson has agreed not to sue IU for wrongful termination. Dan Dakich will be the interim head coach and Ray McCallum will be the assistant head coach. Press conference should be coming shortly.
According to Chris Korman of the H-T/Hoosier Scoop, Sampson rejected the university's original buyout offer of $300,000.
Good news if indeed true. IU can move on with its season and Sampson moves on with a nice settlement.
6:22 p.m. update: Still no press conference as most of you know by now. The belief is that IU and Sampson are in negotiations to buyout the remainder of his contract. If an agreement is reached, an announcement should follow shortly after.
5:30 p.m. update: Terry Hutchens of the Indianapolis Star reports that Kelvin Sampson will meet with the team later this evening and encourage them to play on Saturday. This comes after D.J. White, Jamarcus Ellis, Jordan Crawford, DeAndre Thomas, Armon Bassett and Brandon McGee reportedly skipped practice.
In the best interest of the kids, let's hope that Sampson follows through because a player boycott not only hurts the university, it hurts the players more in the long run. There's still a chance to finish out the season strong, believe it or not, regardless of who is coaching the team.
5:12 p.m. update: For those of you unable to follow the press conference, we'll have audio here on ITH shortly after it ends. WTHR-13, WISH TV 8 and HoosiersHQ.com are expected to stream it.
4:59 p.m. update: The Hoosier Scoop strikes again, this time reporting that Dan Dakich is currently running practice at Assembly Hall. The unfortunate bit? The fact that D.J. White, Jamarcus Ellis, Armon Bassett, Jordan Crawford, DeAndre Thomas and Brandon McGee are not there. Neither is Sampson.
That's pretty sad. I feel bad for those players, because they came to play for Kelvin Sampson, but the behavior also reeks of immaturity. It's something a batch of high schoolers would do. You signed up to play basketball for Indiana University. Look at your jersey. It says so. It doesn't say Kelvin Sampson anywhere on there, far as I can tell.
One more thing: Apparently Ray McCallum is not in the building either. That might be loyalty to Kelvin, or it might be indicative of a larger conflict within the team regarding players preferring McCallum to Dakich. Fun!
4:05 p.m. update: According to Chris Korman of the H-T/Hoosier Scoop, a press conference is tentatively scheduled for 6 p.m. this evening.
3:10 p.m. update: Perhaps the most concrete news we've heard the last two days: Chris Korman of the H-T/Hoosier Scoop talked to a family member of a player as well as a source that talked to a player and he's been told Sampson has been suspended and Dakich will take over.
2:35 p.m. update: ITH reader Gabe tells us Andy Katz is reporting the presser is now scheduled for the 4 p.m. hour.
2:30 p.m. update: WTHR has a feed of the press conference. Thanks to ITH reader Sam for the tip.
2:25 p.m. update: At some point I will weigh-in further on how all of this is going down, but my short and to the point characterization is this situation has been botched by IU. The rampant speculation has been largely fueled by the fact that IU is not providing any updates on a timetable for an announcement to be made. This has, by all accounts, turned into a media circus.
Speculation is still running rampant at this point. Some media outlets are reporting a 2 p.m. press conference while others are saying nothing is scheduled. Obviously since it's past 2 p.m., the reports of a 2 p.m. presser were false.
The latest report that seems to be picking up steam is from Gary Parrish of CBS Sports:
Indiana officials have reached a decision to suspend Kelvin Sampson through the end of the season, multiple sources told CBSSports.com on Thursday and confirmed it again Friday afternoon.

An official announcement is expected soon.
Again, nothing is confirmed at this point and we'll continue to monitor this situation until a resolution is reached.
Filed to: Kelvin Sampson