Jeff Goodman says Sampson has been fired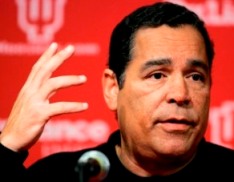 At this point, I'm not really sure what to believe. We've had three different reports today on Kelvin Sampson's future as the head basketball coach at Indiana. The latest is from Jeff Goodman of Foxsports.com:
Sampson was informed early Thursday that he will no longer be the coach at Indiana, numerous sources told FOXSports.com. The official announcement is expected to come Friday, when the university's self-imposed seven-day investigation period ends. When asked to confirm Sampson's firing, Indiana director of media relations J.D. Campbell told FOXSports.com, "I don't know that to be true." Campbell also said no official announcement was currently scheduled for Friday.
This is precisely what happens when different media entities try to get the scoop on a major story: we get varying reports. We'll keep a close eye on developments of this story as the day continues and keep you posted with the latest.
For those of you clamoring for up to the second updates, our friends from The Hoosier Scoop are on the scene…
Filed to: Jeff Goodman, Kelvin Sampson