Report says Dakich will take over for Sampson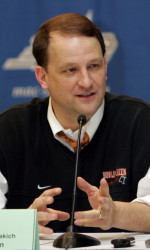 No surprise here, but Rich Nye from WTHR-13 in Indianapolis is reporting that Dan Dakich will take over the head coaching duties for the Hoosiers starting Saturday at Northwestern. This confirms what E reported on ITH about a week ago. Here is an excerpt from the report:
A source close to the situation tells Eyewitness Sports that officials from the IU administration have met with assistant basketball coach Dan Dakich about taking over the basketball team as interim head coach for the rest of the season.

The source says that by Friday afternoon, Kelvin Sampson and the university will likely reach a financial settlement ending his employment, or Sampson will be suspended pending termination under the terms of his contract.
Not a huge surprise as Dakich is the logical choice to finish the season at the helm. Indiana is expected to make a public announcement tomorrow regarding the findings of their one week investigation.
The Hoosier Scoop also acknowledged the report, but reporter Doug Wilson says another source close to the athletic department claims that Nye's report is not entirely accurate.
(HT: Rick Bozich)
Filed to: Dan Dakich, Kelvin Sampson