Greenspan meets with players, news expected Friday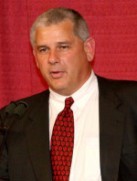 According to an Associated Press report, Indiana Athletic Director Rick Greenspan met with the men's basketball team on Thursday evening, presumably to discuss the future of head coach Kelvin Sampson:
The team met with athletic director Rick Greenspan on Thursday night. Almost the entire team left en masse after the meeting about 7:45 p.m. and declined comment as they got into their cars and left the parking lot.
Indiana University spokesman Larry MacIntyre said late Thursday afternoon nothing had yet been scheduled but called an announcement likely.

"We have some plans, but we don't have a definite time and we don't have the OK to go ahead yet," MacIntyre said.
So there will be some type of announcement, most likely a press conference, sometime on Friday as we expected. What the announcement is, however, does not seem to be clear cut at this point as conflicting reports have surfaced throughout the day from various media outlets.
Filed to: Kelvin Sampson, Rick Greenspan