Kelvin Sampson Archive
CBS Sports: Exiled Sampson admits mistakes, rues bad timing of offenses
I asked one high-ranking member of the NCAA where the illegal phone calls violation currently stacks up.

"We don't even care about that anymore," they said. "We aren't even wasting our time and resources with it."

So much so that the rules, in fact, are likely to change this year. There will almost certainly be more communication permitted between coaches and recruits, potentially even unlimited calls, and the NCAA is also set to allow text messaging in the recruiting process.

"I think it's the right thing to do," Sampson said of the proposed legislation regarding phone calls. "These days kids dictate the calls and they choose whether to talk to you or not. It's good for coaches because it's hard to build relationships with kids."

"I'm glad the rule's going to change because it'll put a lot of coaches' minds at ease about the phone-call rules," he continued.

Sampson was hit with a five-year show-cause penalty from the NCAA, which basically means he can't coach in college basketball until 2013. He was also accused of providing false information to the NCAA, a claim he continues to deny.

"Initially, we didn't understand why it was at the level that it was," Sampson said of the punishment. "But at the end of the day, I have to take responsibility. I broke the rule. There's nobody else to blame."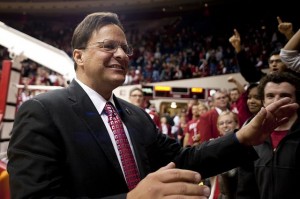 The NCAA released updated Academic Progress Rate (APR) figures through the 2009-2010 academic year earlier today and Indiana's four-year average in men's basketball is now 929, which is four points above the minimum 925 required to avoid penalties.
The Hoosiers posted a perfect 1000 for the 2009-2010 academic year, which bolstered the four year average to 929.
"I want to congratulate Coach Tom Crean for providing the leadership necessary to raising the program's standards with regard to the APR," said IU Vice President and Director of Athletics Fred Glass.  "This is a tremendous step for the program and an accomplishment that all of Hoosier Nation should be proud of."
In Tom Crean's first season in Bloomington, Indiana received a 975, up from the 811 figure posted during Kelvin Sampson's final season in 2007-2008.
Indiana voluntary gave up two scholarships in the summer of 2008 in anticipation of low APR numbers during the final season of Sampson's tenure.
Here's a look at IU's APR numbers over the last seven years:
03-04 939 (Davis)
04-05  905 (Davis)
05-06  827 (Davis/Sampson)
06-07  932 (Sampson)
07-08  811 (Sampson/Crean)
08-09  975 (Crean)
09-10  1000 (Crean)
The complete APR database for all Division I schools can be accessed here.
Among the various landmines Kelvin Sampson left in Bloomigton was an APR (Academic Progress Rate) score that was, in a word, unacceptable. Let's go to the archives from May of 2009:
The NCAA released its Academic Progress Rate (APR) scores this afternoon and the result was a public notice for IU baskeball in response to a score that, well, isn't pretty. To put it into perspective how low the figure is, the other 23 athletic programs at IU all had scores well above the NCAA benchmark of 925. The men's basketball program checked in at 866.

"We take this public notice very seriously," Indiana Athletic Director Fred Glass said. "The poor academic performance for which we're being cited all occurred under two coaches who are no longer at IU.  We are confident that under Coach Tom Crean's leadership and commitment to academics, responsibility, and character, we will soon be able to put our previous academic issues fully in the past. Coach Crean's outstanding academic record at Marquette, including the graduating of all of his senior players, speaks for itself."
Fast forward to June 2010 and the APR is headed in the right direction.
This PDF report, released by the NCAA, shows the APR score for men's basketball jumped to 975 for 2008-2009. The multi-year score also jumped 12 points to 878.
The multi-year figure is still the lowest among all IU sports. But the improvement, coupled with the fact that IU already self-imposed the loss of two scholarships during Crean's first season, means that no additional penalties will occur.
Two things of interest on this Thursday afternoon involving former members of the IU basketball fam.
First up, via Gery Woelfe of the Journal Times,  comes word that Jordan Crawford reportedly used to give Eric Gordon a run for his money in practice:
Many NBA scouts weren't caught off guard by Crawford's highly-productive season. They were well aware of his myriad of talents when he was a freshman at Indiana University.

That's when he had some memorable practices against then Hoosiers guard Eric Gordon, who wound up being the seventh overall selection in the 2008 NBA draft by the Los Angeles Clippers.

Some people who witnessed those Indiana workouts swear Crawford was often as good or better than Gordon.

"I heard that from time to time from players on the team, saying stuff like that,'' Crawford said. "I really wanted to compete against him.

"He was the best player on the team, so every day in practice I wanted to go at him.''
Considering the Undisciplined One was rather boom and bust that season — flashes of brilliance mixed with some typical freshman mistakes — it's not out of the realm of possibility that on his best days he could have matched Gordon here and there.
Second, via Adrian Wojnarowski of Yahoo! Sports, looks like Kelvin Sampson is getting at least a look from the Cavs in their coaching search:
As the Cleveland Cavaliers sift potential coaching candidates, general manager Danny Ferry has made calls checking on Milwaukee Bucks assistant Kelvin Sampson, sources tell Yahoo! Sports.

For now, the Cavaliers' interest appears to be strictly in the fact-finding phase, but some league personnel believe it's just a matter of time until Sampson becomes a legitimate head coaching candidate in the NBA.
This comes on the heels of a report from K.C. Johnson of the Chicago Tribune that Sampson could draw interest from the Bulls in their search. Sampson worked a lot with rookie Brandon Jennings this year as a member of the Bucks' staff, and though Jennings' shot still needs plenty of work, he garnered some rookie-of-the-year consideration. Dude also tossed up 55 points in a game during the first half of the season, and was the team's leader at the point for a team that made the playoffs and nearly upset the Hawks in the first round.
Tyreke Evans and Stephen Curry are talented, no doubt, but they weren't getting the type of experience Jennings was this year at the point. They may not have gotten the coaching Jennings got either.
You can criticize Sampson for other things, but his coaching prowess — after only two years in the pro ranks — is already garnering him some consideration for head-coaching jobs. That's impressive stuff any way you slice it.
Oh, and just before I was set to hit publish, here's a tweet that just came through from the well-connected Brain Windhorst of the Cleveland Plain Dealer: "Sources confirm Yahoo! report about Cavs' interest in Bucks asst. coach Kelvin Sampson. In fact, I'm told he may be near top of list."
And then this tweet from Woj: "The Clippers are also showing an interest in Bucks assistant Kelvin Sampson, sources tell Y! Sampson has relationship with Blake Griffin."
OK, that's it. Discuss at your leisure.
For no reason in particular, there is an old Lincoln quote rolling around in my head today (Abraham, not continental). It comes from a message to Congress that was a precursor to the Emancipation Proclamation, when Lincoln penned the words "the dogmas of the quiet past are inadequate to the stormy present."
Now, I'm still not entirely sure what that means, but it's been rolling around in my head for the last few hours, so I just thought I'd get it out there.
Like most (if not all) of you, I watched at least some portion of the sound beating IU took at Wisconsin on Saturday. I was unable to watch from stem to stern, but I got the gist — not enough offense, not enough defense, not enough points, not enough hustle, not enough of anything for anyone to really find positives in anything but the final buzzer and those brief moments when it slipped from your mind that there was a game yesterday at all.
Now, it's been suggested, in this space and in others, that I, specifically, am too easy on Tom Crean, too forgiving of the Hoosiers' plethora of shortcomings as this season slowly turns the way of last.
But the truth is, folks, I understand. I really do. I understand how hard it is to watch this team play, and struggle as it does. There's a standard Indiana fans expect, and it's not being met.
And I know that for many of you, that standard isn't measured solely with banners or wins-per-season averages, but simply with hard work, teamwork and commitment. The majority of you have (at least, I think you have) bought into what Tom Crean is selling — the rebuilding, baby steps approach that celebrates every move forward this team makes, and forgives most of its regressions.
But water will always boil when succumbing to intense heat, and so fans will become displeased when they see performances like the last three IU has managed. I've seen part or all of Northwestern, Ohio State and Wisconsin, and this time, I'll agree with you, Hoosier Nation, your complaints are valid.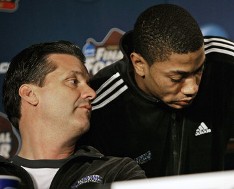 The story of the day Thursday in college basketball was the NCAA's announcement that the run to the national championship for the 2007-2008 Memphis Tigers is now wiped from the record books.
That Memphis club, which won 38 games before falling to Kansas 75-68 in the title game, was spearheaded by freshman point guard Derrick Rose. And after a lengthy investigation, the NCAA ruled that something just didn't smell right when Rose took the SAT on May 5, 2007.
After failing to achieve a qualifying score on the ACT each of the three times he took the test in Chicago, someone, presumably not Rose, achieved the SAT scores needed on that early day in May.
Only this time the test was taken in Detroit, which also happens to be the home of William Wesley. You might know Wesley better as World Wide Wes, a confidant of Calipari. You do the math.
Calipari will do his usual song and dance when pressed to disclose whether or not he knew of possible indiscretions with Rose's test score: Deny, deny and deny some more. It's all in the past, right? It's the same tune currently being belted in Lexington by fans who are desperate for a winner after Billy Gillispie flamed out last spring in the NIT.
As you may recall, the NCAA levied a five-year show-cause order on Kelvin Sampson back in November, along with slapping IU with three years probation for "failure to monitor."  Essentially, this means Sampson has little to no chance at being a coach at an NCAA member school for the next five years.
But, Sampson did not agree with the NCAA's ruling. So he appealed. And today, he was officially denied.
Some more details from the Indianapolis Star:
Sampson appealed the penalties in an April hearing, saying his ban was too severe and that the original committee hearing was biased against him because a date was set before the NCAA enforcement staff issued formal allegations and before it completed interviews.

The NCAA contended that the the original findings and penalties were correct.
Nothing surprising here: it was unlikely Sampson's appeal was going to help lessen the penalties brought down upon him. Now that he's been denied, IU has no more hearings with the NCAA on the matter and he's toiling away on Scott Skiles' bench in Milwaukee, this will likely be the last nail in the coffin on the Kelvin Sampson era at IU. (Unless members of that team/Sampson/an assistant coach/a member of the athletic staff/a member of the administrative staff/a recruit does a tell-all interview or leaks something to the media. I suppose there's always a chance of that happening.)
Feels good, doesn't it?